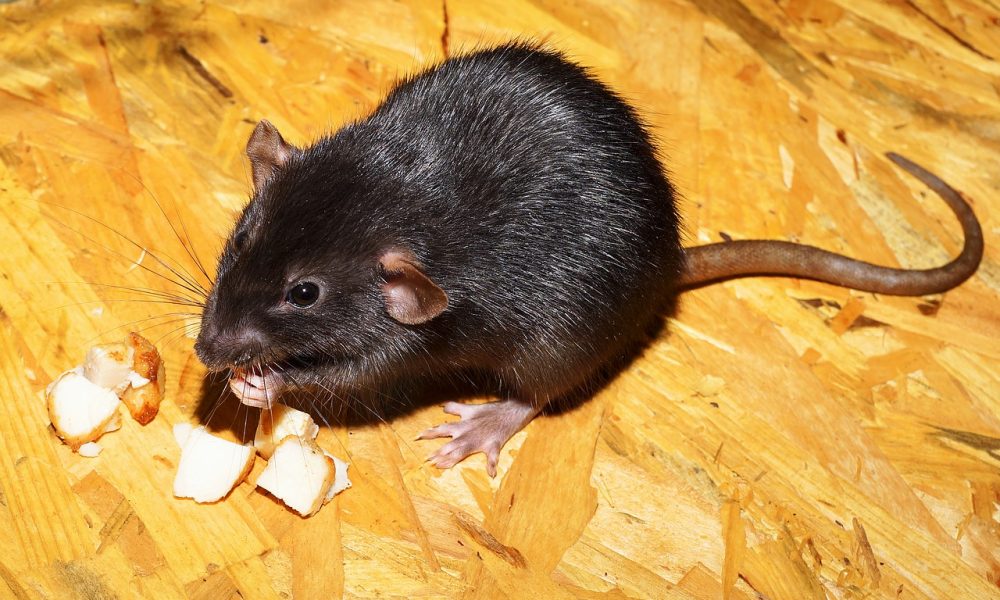 When rats enter the home, they quickly get busy planning for their nest and baby rats galore. And these infestations can take over an area in a matter of no time. So, that is why, when you have one rat, it is time to call your local wildlife removal company to get it out before breeding begins.
Furthermore, keep reading this article if you want to know when they breed and tend to multiply in your attic. Rats are a year-long problem for many homes. The honest answer is removal and exclusion by World Class Wildlife Removal.
Is There a Breeding Season?
Rats do not have a real breeding season. Instead, they will have a baby boom of sorts. You see, rats will typically avoid breeding in the winter months due to the temperatures. However, if they are all cozy and tucked up in your attic or garage, for instance, that may be a perfect time. Therefore, the circumstances determine whether or not a rat will reproduce. Breeding season is relative to the conditions of the nesting area for the rat.
The Breeding Cycle
The breeding cycle begins when the male and female become of breeding age. That can be as early as three months of age. When a male and female come in contact, they will mate soon after. The babies will be born in a matter of 3 weeks. And the liter will yield 6 – 12 little ones each time. The only way to stop the pattern in your home is to get them out, destroy the entry points and nesting conditions.
How Fast Will the Infestation Take Place?
Well, here is the incredible part of the rat's breeding cycle. You see, a female rat can be ready to re-conceive immediately after giving birth. There are no breaks for mama rats, so it is on to the subsequent pregnancy right away if a male is waiting for her. So, you can quickly see how an infestation can take place in a matter of no time at all.
Not to mention, the female can give birth five to 10 times per year. That means, in one calendar year, she alone can produce 25 – 100 babies. Now, let's also remember once she has a liter, she is no longer the only female in the place. When her babies begin having babies, the explosion really takes place.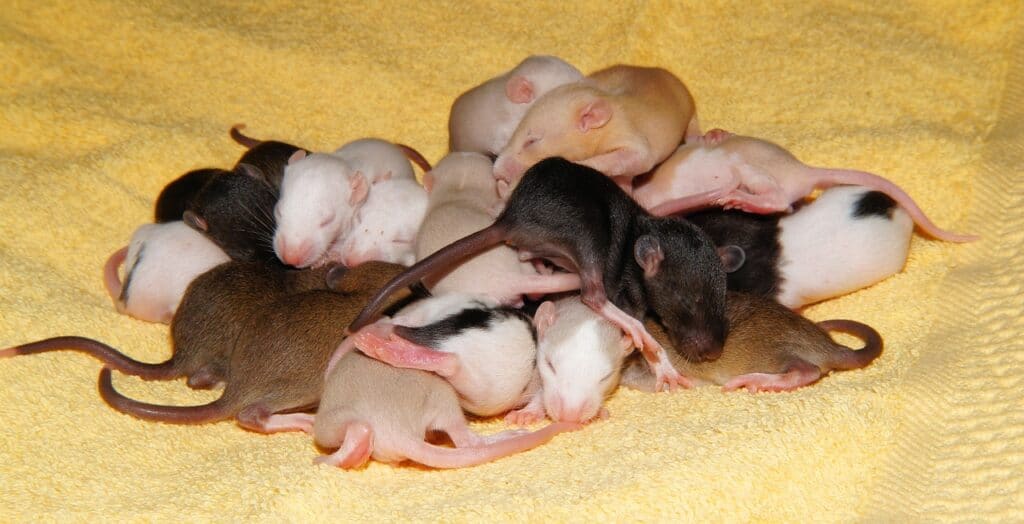 Breeding and the Signs of Infestation
You would think the signs of a rat infestation are pretty obvious. But let's remember, rats are nocturnal, and they are masters at hiding. So, here are some of the main signs indicating that you have a rodent infestation.
Most apparent is to actually see a mouse or rat scurrying through your home.
Tiny footprints in the dust in your house, attic, or garage.
Small droppings or fecal matter in the travel paths.
Gnaw marks on boxes, furniture, and clothes.
Small burrows or holes along your walls.
Foul odors from the urine and grease marks on the walls.
Scratching and scattering noises at night in your walls, garage, or attic.
Signs that your food has been tampered with or eaten, including holes in bags and plastic containers.
Odd or defensive behavior from your house pets.
Should you notice any of these behaviors or patterns, contact your local wildlife removal company as soon as you can get to a phone or the computer.
Preventing a Rat Infestation
Clearly, you want these filthy intruders out of your house no matter where they are. No one wants to turn a corner and see a rat appear. What's more, the damage that they leave behind can be a home maintenance nightmare. Rat removal is a good idea for more than just the obvious reasons. Getting rid of a rat or mouse can help you prevent future household issues and avoid any severe health risks.
And if you need help with an infestation, contact your local wildlife removal company to remove rodents in your home. In the meantime, here is what you can do to help prevent the infestation.
1. Establishing a Safe Perimeter for Your Family and Pets
When a professional rodent removal expert inspects the outside perimeter of your home, they will look for any hole, crack or crevice that rats and mice could use as an entry point.
Then they will seal it up tight and recommend ways to keep the perimeter of your home safe. Keep your home sealed up tight to prevent rodent infestations from happening in the future.
2. Protect the Home's Electrical Wiring
As you probably know, a rodent's teeth are continually growing, and they constantly gnaw. When they make a home in your walls or attic, they will find anything they can to chew on and use for their nesting materials. One of the most significant damages a rodent can cause is chewing up your home's electrical wiring, which can cause electrical fires. 
3. Remove Rodents for Children and Pet Safety
A dog or cat's natural instinct may be to hunt down and kill rodents, but we should highly discourage them from catching rodents as pet owners. In the process, your pet could pick up harmful bacteria, parasites, ticks, and fleas. 
Additionally, eco-friendly rodent control services are a must for homes with children and furry loved ones. A child or a pet could easily be hurt by a trap set for a rodent if they come upon it and become curious. And a poison trap could really make a child sick and even be fatal to small children and pets.
4. Saving the Attic Insulation
The fluffy stuff makes excellent bedding for them to make a nest and raise their young. And, when they make that nest, the rats will ruin the insulation and the area they deem appropriate for the nest. So, by removing rats, mice, and other rodents, you will save yourself the cost of replacing your attic's insulation from rodents living in the area.
5. Remove Rodents for Energy Efficiency
The insulation in the attic, ceiling, and walls helps regulate your entire home's heating and cooling. Therefore, the rodents tearing it away is not suitable for your energy bill. 
6. Providing a Healthy Space
Rats and mice are not just a nuisance, but they are a severe health risk because they carry harmful bacteria and contagious pathogens. These are some of the dangerous diseases carried by rodents.
Salmonella
Bubonic plague
Rat-bite fever
Hantavirus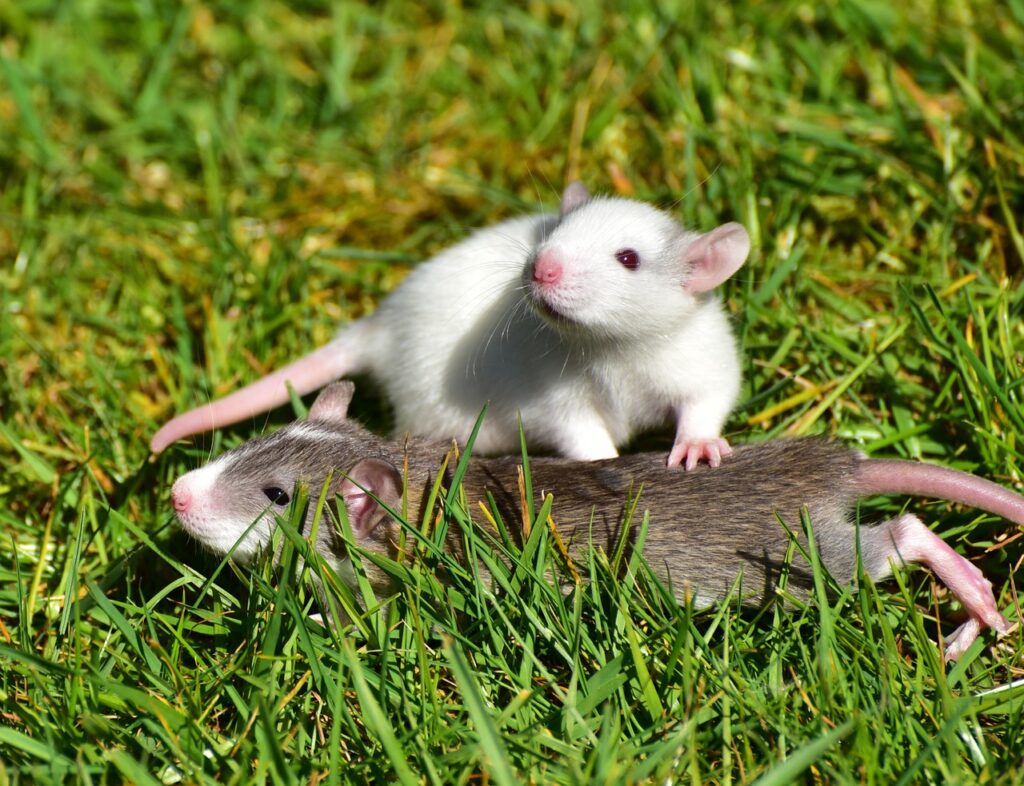 7. Sanitization of Your House and Property
Removing your rodents goes beyond just getting the rodents out. It also includes sanitization against those harmful diseases and for further prevention. Pheromones are left behind when the rodents are gone, along with filth, disease, and insects. 
8. Uncompromised Food for Your Household
Contaminated food can cause more than just food poisoning! Rodents often spread disease is by gaining access to your food sources in the kitchen and pantry. And they even get into pet food. So, treat your pet's food as you would your own to avoid attracting the rodents in the first place.
9. Clean Ventilation Helps You Breathe Easy
Rats and mice are notorious for nesting in hard-to-reach places, including inside walls and in the ductwork.
You will smell a foul odor that becomes carried through the ductwork and spread throughout your home if a rodent is in your walls or ductwork, especially if one dies. And that foul odor is only removed through professional odor removal chemicals. 
10. Automobile Protection
Rats and mice find a way into your car in the garage during colder weather to stay warm. They will even nest in your vehicle's leather seating and get warm in your engine. 
11. Protect Your Home's Appliances
Especially in the winter months, rodents look for a place to stay warm and nest. Refrigerators, ovens, entertainment centers, and more all provide excellent warm hiding spots.
Moreover, the appliances can all be destroyed by rodent droppings or gnawing.
12. Secure Storage for Precious Items
We all have sentimental and heirloom items that we store. Unfortunately, storage spaces are isolated and a prime location for rodent infestation. Ensure that you check areas like the attic and garage for unwanted pests.
Stop the Breeding Cycle with World Class Wildlife Removal 
When you hire a professional rodent removal expert to remove and keep rodents out of your home, you will gain peace of mind. None of the above situations are ones you want to find yourself and your family in. That is why folks trust wildlife removal to companies like ours.
World Class Wildlife Removal offers healthy, safe, organic, humane, and ultra-effective rodent removal services. Located in Clearwater and serving Tampa's wildlife removal needs and the Pinellas, Hillsborough, Manatee, Pasco, and Sarasota counties, we are the wildlife company you can count on. 
Trust World Class Wildlife Removal for all your pest removal needs.
To request a free inspection, contact us.