Have your pets been behaving differently recently? Have you heard scurrying noises in your walls and ceilings? If you've seen even one rat in your home or business, chances are that you have a full-blown infestation on your hands. But there's no need to worry about the financial or health implications of rats in your building — you're in good hands. World Class Wildlife Removal & Rodent Remediation Company is an experienced, effective rat removal company that will work around the clock to get your home or business rat-free as quickly and safely as possible.
You deserve to feel safe in your own home or commercial property! Our experienced exterminators can ensure that security with efficient, non-toxic rat removal.
You deserve to feel safe in your own home or commercial property! Our experienced exterminators can ensure that security with efficient, non-toxic rat removal. We will address the infestation and any rat-related damage to your property in a timely, precise manner. We will even sanitize the affected areas after the removal process for added peace of mind. Families shouldn't have to worry about their children getting sick from or infected by rats, and businesses shouldn't have to worry about failing health inspections. Our rat removal service will provide you with the protection you need to live life and run your business, rat-free. Call today to schedule an inspection of your property. Continue scrolling to learn more about the dangers rats pose to humans and the crucial value of our rat removal service.
Contact with rats, or even living around the vicinity of rats, can be dangerous to your health. If you suspect you may have rats in your home or business, call World Class Wildlife Removal & Rodent Remediation immediately to get an inspection. Our exterminators will determine the extent of the infestation any damage the rats may have caused your home or business and address the problem quickly and safely. We'll even sanitize the area after we're done with the rat removal! Continue scrolling to learn about the indicators that you may have rats living with you in your home or business.
Rat Infestation Risks
Rats may be small, but they pose huge risks to humans, homes and businesses alike. Historically, rats have been associated with disease and death. After all, they were what brought the Black Plague to Europe in the Middle Ages. Despite the fact that modern medicine and technology have evolved greatly since then, rats pose similar risks to your health and property today.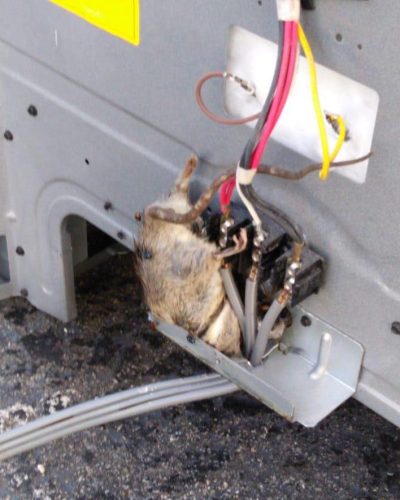 Rats are secretive and small, able to gnaw and squeeze their way through openings in your home as small as a quarter. This opens up the potential for them to cause costly, difficult-to-detect damage to your furniture, your home's infrastructure, and even electrical wiring! Rats gnaw constantly on materials like wood, plastic, or anything that looks remotely edible. To a homeowner or a business owner, that means that rats can get into practically any food container, bore holes in most any surface, and wreak havoc in small ways that can build up over time into significant, costly damage to your property over time.
The common rat can live up to three years, but up to 95 percent will die within a year. Rats are desperate to survive and will try to do so at any cost. Unfortunately, if they've made your home or business their home, that cost is likely going to be passed on to you in the form of damaged furniture, floorboards, walls, and hidden damage to your building's infrastructure. Rats can also contaminate foods, surfaces and accessories. If you fear you may have a rat in your house, call the rat exterminators at World Class Wildlife Removal & Rodent Remediation right away. Our exterminators are experts in rat removal and will get your home or business cleared of rats and sanitized quickly and safely.
Even one rat is a sign of trouble. Rats are so secretive that if you see one, it means that there are dozens to hundreds more living within your home or business. Most rats can breed throughout the year, producing five litters a year, with a pregnancy period of just three weeks. That means that just two rats can grow a population of 15,000 in a year if conditions are right. And did we mention all the diseases rats can spread in your home?
Why Hire A Rat Exterminator?
With all of the consumer options for tackling rat removal, like rat traps, poison bait and repellent sprays, you may be asking yourself: is it really necessary to hire a rat removal company or exterminator?
As an experienced rat removal company, we may be a bit biased, but our answer to that is "Absolutely." We get it: consumer solutions to rat removal may be cheaper and more convenient than hiring a full-blown rat removal service like us, but it's also a far less precise and thorough way of tackling a problem that poses serious health risks to homeowners, liability issues for businesses, and gets restaurant owners' operating licenses suspended on a not-too-uncommon basis.
You might catch a rat or two with traps or other consumer solutions, but it's unlikely that the rats you catch are the only ones in your building. Additionally, you won't be getting information as to where the rats were holing up, what damage they might have caused, and what bacterial risks for disease they may have left behind. Rats may be small, but they're a serious issue that deserve the attention of experienced exterminators like World Class Wildlife Removal & Rodent Remediation.
When you choose us for your rat removal needs, you're getting a trusted, experienced exterminator service that operates in five counties across West Florida. Our customers in Pinellas, Hillsborough, Manatee, Sarasota, Pasco, and Polk Counties choose us because they know we're the absolute best at quickly assessing the scale of a rat infestation, safely and efficiently removing all the rats from your home or business using methods that are non-toxic to humans, and thoroughly sanitizing all affected and damaged areas so that you're completely protected from any risks of disease that the rats may have left behind.
---