Removing Pesky Opossums for Good
It starts at night with a rustling in the backyard. Your dog is going crazy, and you are wondering who or what is in the backyard. Then you see it, that marsupial animal called the opossum must be the one pestering your dog.
Opossums can make a mess of your yard or home in just one night. They will rustle through your trash cans, turn up your flower pots, and tear up ductwork and insulation.
World Class Wildlife Removal is here to help. We will complete the opossum removal fast and leave your home and yard opossum-free. Schedule your FREE Inspection today! or call us 24/7 at 727-754-8585.
Our World Class team was named State Wildlife Tracker of the Year for two years in a row, and it's no wonder why. We never back down from a challenge, no matter how hard or daunting it may seem. It is this attitude that has given us so much success with wildlife removal.
24/7 Opossum Removal Services
Although opossums are not aggressive, they will bite if in defense. This happens rarely, though, most of the time, opossums just play dead and wait for you to leave the area. Then they can make a run for it. 
Still, you don't want an opossum family moving into your yard and especially not your home. 
World Class Wildlife Removal offers 24/7 emergency services, so we can help humanely remove and relocate opossums and other wildlife when you need us!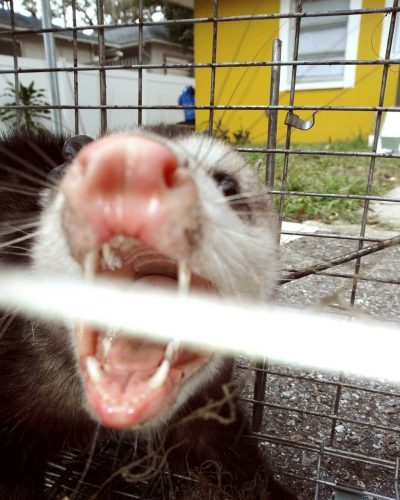 Our Holistic Approach to Opossum Removal
World Class Wildlife Removal applies a holistic approach to opossum removal.
We are proud to use the latest and greatest in pest removal, addressing issues inside and outside the home.
First, we will locate the points of entry.
Then we inform the clients of the things in the yard or home attracting the opossums.
We will even find the trail the opossum took to make entry into the yard.
Then the traps are set and baited.
Once caught, the animal will be humanely removed and relocated.
Once we are sure the property is safe from future unwanted pests, we can begin to remediate the area. We make sure to:
Fully clean the areas the opossum was in
Sanitize the entire space to protect against disease
Fully seal all entry points to protect against future invasions
Check the property one more time
Why Choose World Class Wildlife Removal?
With over 30 years experience, you cannot go wrong calling on World Class Wildlife Removal. We have seen most every animal in almost every situation. There is nothing we can't handle. No matter how overwhelming or difficult it may seem we can get the job done.
The residents of Pinellas, Hillsborough, Pasco, Polk, Manatee, or Sarasota Counties have been counting on us to remove wildlife for years.
Key benefits of choosing World Class Wildlife Removal:
Same Day Service
Licensed, Insured, & Bonded
Hospital Grade Products
Eco-Friendly, Healthy, Safe Methods
30+ Years of Happy Customers
100% Satisfaction Guaranteed
Family Owned & Operated
Veteran Owned & Operated
We offer service at every price point and will work with your budget.
Rigorous training year after year
Over four generations of wildlife removal expertise—nothing beats hands-on experience.
---