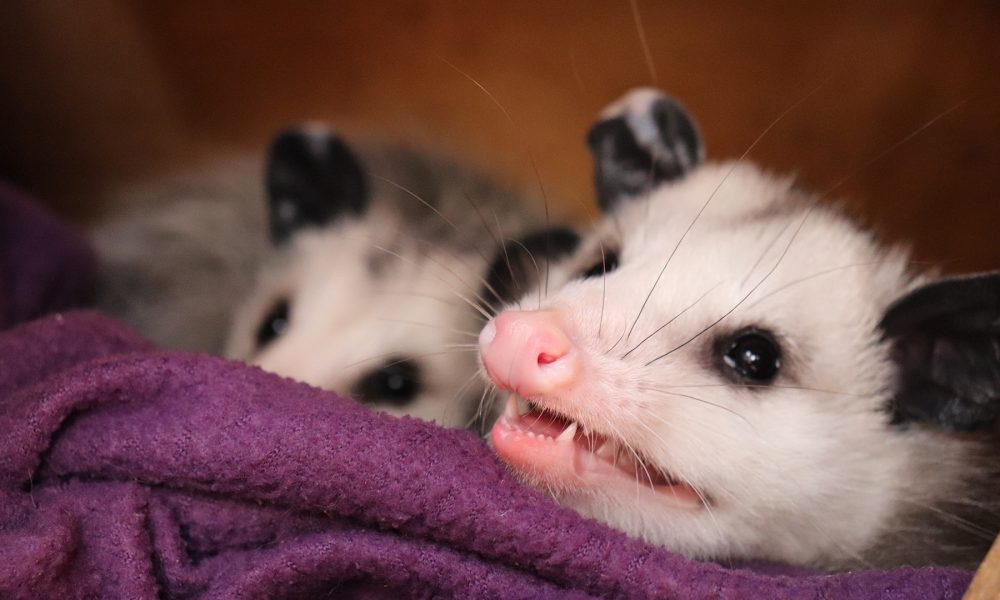 Pity the poor opossum. The oft-maligned marsupial absolutely suffers from an image problem it is frequently perceived more as a giant, filthy, scavenging rat rather than a charming animal of the wild. However whether you enjoy them or hate them, North America's only marsupial has a set of special characteristics that may turn you off more or get you on the side of the opossum.
Imagine this … Your flashlight flickers throughout the telltale shiners of an opossum and you hear its classic hiss as it bares a rugged scramble of teeth at you. It's only natural to wonder what concoction of illness is bubbling up in that mouth! If you have actually ever been in this circumstance, this is the article for you.
So, do opossums carry rabies like other rodents? Let's find out.
Playing Possum
Opossums are usually not aggressive, so you might be able to help them on their way by gently pushing them with a broom. But, people frequently misinterpret their open-mouth hissing and drooling behavior as a sign of rabies. However, this is just a bluffing behavior that opossums use as a defense system. It's actually very rare for an opossum to ever have rabies.
Here we lay out how an opossum lives its life in the wild in order to get a clearer photo of its disease-carrying profile. Defined primarily as a transient type, opossums never ever remain in one location for too long. Typically, these animals will develop a den and live in one specific area for no more than 6 months.
Why the lack of permanence? Well, it might be due to the fact that of their shy nature; opossums are reclusive and introverted. Anytime their dens are disrupted by other animals or humans, this could indicate that it's time to go. Like raccoons, they'll eat anything they can wrap their paws around. This indicates that in some cases, they'll nibble another animal that may bring its own set of diseases. Whether the diseases pass along to the opossum is a game of chance, however, it's safe to presume that consuming filthy, often decaying matter causes some pretty nasty internal adverse effects.
While a short-lived home has been established, opossums succumb to their shy and reserved dispositions. They tend to hide from the outside world and spend weeks or months at a time snuggled in the bunkers they've produced themselves raising their offspring. This singular behavior pattern inadvertently secures the opossums from a range of illnesses that they 'd otherwise contract in the outdoors world.
Nevertheless, this is just a defense mechanism! By utilizing this scare strategy, lots of large predators (including humans) tend to withdraw, leaving the opossums to their treasured privacy. However, do they, in fact, bring rabies? Or possibly other diseases? Do these garbage-eaters have parasites? Keep reading to find out!
They Are Cold As Ice
Opossums have a startlingly low body temperature.
Why does this matter? Though it hasn't been shown, numerous scientists assume and concur that this low body temperature level sheds some light on something mysterious: an opossum's extraordinary resistance to rabies. It's possible for an opossum to carry rabies, but according to the Opossum Society of the United States, the chances are slim.
Wildlife expert Jody Lutz has an opossum actually crawling all over her as she speaks about how rare it is for these animals to carry rabies! Opossums are understood as major providers of a zoonotic illness called leptospirosis, which is a bacterial infection that begins with no more cause for the issue than standard influenza.
Transmission of leptospirosis occurs mainly through an opossum's urine and feces in the soil. When animals and people make unguarded contact with the dirt (for example: if your pet beverages unclean groundwater or you do not clean your home-grown produce well enough), you might run the risk of transmission. Due to the fact that of their trash-diving propensities, opossums are normally affected by parasites.
The majority of these parasites are simply somewhat annoying to humans, causing nips and bites along with the feet and ankles. Nevertheless, ticks are the outlier in the list since they bring Lyme Illness, which is fatal if left untreated. Here's some great news: despite the fact that opossums both consume and host ticks as parasites, there is no evidence that they can contract or carry Lyme Illness.
While these animals do carry a strong bacterial infection, the only method to send it is by means of direct contact with the soil where they have actually excreted waste. By taking preventative procedures to safeguard yourself and your family pets versus environmental threats, you'll be able to quickly prevent any possible transmission of leptospirosis.
In spite of their short life expectancies, these animals are difficult versus natural pressures, and you don't need to fret that they'll pass any diseases on to you, your household, or your pets.
They Are Mostly Safe But You Still Don't Want Them in Your House
If you've just recently stumbled upon an opossum, more typically referred to as a possum, rabies might be on your mind. Hunting whatever from snakes to mice, and even eating roadkill sounds like a recipe for disaster. And who could forget their unpleasant look? With coarse hair, small dark eyes pointed pink snouts and rat-like tails, they're not precisely the most lovable creatures one might encounter in the wild.
Any mammal can get rabies, however, it's incredibly uncommon for an opossum. It's believed that their low body temperature may hinder the infection and make it challenging for it to endure. While there are a couple of reports each year where opossums do carry rabies, it's unlikely for them to send rabies, that trigger diseases such as leptospirosis.
Raccoons, skunks, deer, squirrels, and rodents can all be infected with no real indications. According to the Centers for Disease Control and Avoidance, Often, nevertheless, symptoms reappear and can cause more extreme diseases. To avoid the spread of leptospirosis from wildlife, prevent swallowing water from lakes, rivers or swamps, and steer clear of environments potentially contaminated with animal urine.
If you have any unwanted wildlife on your property call World Class Wildlife Removal today.