Top Rated Wildlife Removal Company
We provide safe and humane wildlife trapping, removal, and control services in Pinellas, Hillsborough, Manatee & Sarasota counties. Call us at 727-204-8461 or fill out the form below to have us call you back.
---
Get rid of your unwanted wildlife!
WE OFFER SAME DAY SERVICE!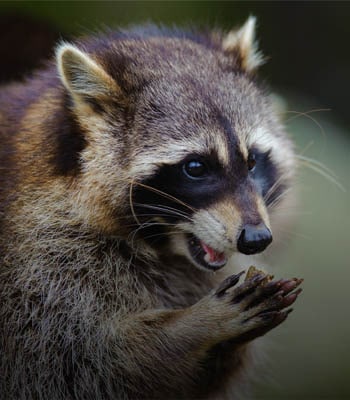 RACCOON REMOVAL
Wildlife Control & Rodent Removal Services
Healthy, safe, organic, & ultra effective rodent removal services. Serving the wildlife removal needs of Pinellas, Hillsborough, Manatee & Sarasota County Areas.
When pests and wildlife make their way onto your property, you know you need to handle the situation fast. That's where we come in. As third-generation pest control experts with more than 30 years of happy customers, we are confident in our ability to handle just about anything. From getting the rats out and closing up their points of entry to total decontamination of your property, we do it all to ensure you can get back to your life as usual. Contact us now to get started.
At World Class Wildlife Removal, we offer a premier rodent and nuisance wildlife removal and remediation service. We completely solve all rodent related issues with surgical precision. We are darn good at it too! We get rid of rats and mice quickly with world class methods and strategies. We sanitize and clean as well as rodent-proof your home or business better than anyone else in the business. The thing that sets us apart from other businesses in this industry is the fact that we do what we say we are going to do and never run from a problem. We take on adversity with a smile and you can see our quality for a country mile! We have years worth of happy customers and we want you to be one too. Give us a call and we will make you smile!
Why Choose World Class Wildlife Removal?
Same Day Service Within the Hour
Hospital Grade Products
30+ Years of Happy Customers
Healthy, Safe & Organic
100% Satisfaction Guarantee
Family Owned & Operated
Licensed, Insured & Bonded
Veteran Owned & Operated
Wildlife Removal Frequently Asked Questions
1How long does removing the animals take?
Removing animals can happen instantly in some cases. Some instances require multiple trips to check traps, rebait or reconfigure trapping schemes.
2Is it safe for my dog or cat?
Our services are targeted to specific locations that are out of sight to avoid contact with people and pets. We never put anyone in harm's way.
3Do you clean up after you're done?
We always clean up after our services and will never leave a mess. We sanitize and disinfect extremely well.
4Is there going to be dead animals in my attic?
Sometimes when trapping we use snap traps that will dispatch the rodent. We never leave the rodent long enough for a client to realize any odors.
5What do you do with the animals after you catch them?
We relocate animals that we trap to an approval release sight to live happily ever after. We never euthanize our caught animals.
6Do you work with dogs and cats?
We never get involved with dogs and cats as far as trapping goes. We refer all of these cases to the county.
7Do you ever use poisons for removing wildlife?
We are a poison free company. We never use poison for any reason. Using poisons can cause serious negative outcomes.
8Do you deal with cockroaches and termites?
We do not practice any insect related business.
9What makes World Class Wildlife different form all the other companies in the industry?
Let's start with our inspection process. We are extremely thorough in our multifaceted approach to Animal Removal and intrusion prevention. We leave no stone unturned and no questions unanswered. We are without a doubt the most comprehensive and precise company in the state.
10How many rats do you typically removal from an average size residential home?
We've removed 2 rats right on up to 14 rats from normal sized homes. (Under 2000 sq. ft.) We've removed 38 rats from an apartment building and 341 rats from a single commercial property. THERE IS NEVER JUST ONE.
Veteran Owned & Operated
It's time to choose a pest control and rodent remediation company who does what they say they are going to do. Look no further than World Class Wildlife Removal & Rodent Remediation Co. Never running from a problem, we take on every case with care and professionalism. No matter what the issue may be, we take on adversity with a smile — and you can see our quality for a country mile! With years' worth of happy clients, we can't wait to make you one too. Get in touch with us today to learn more.