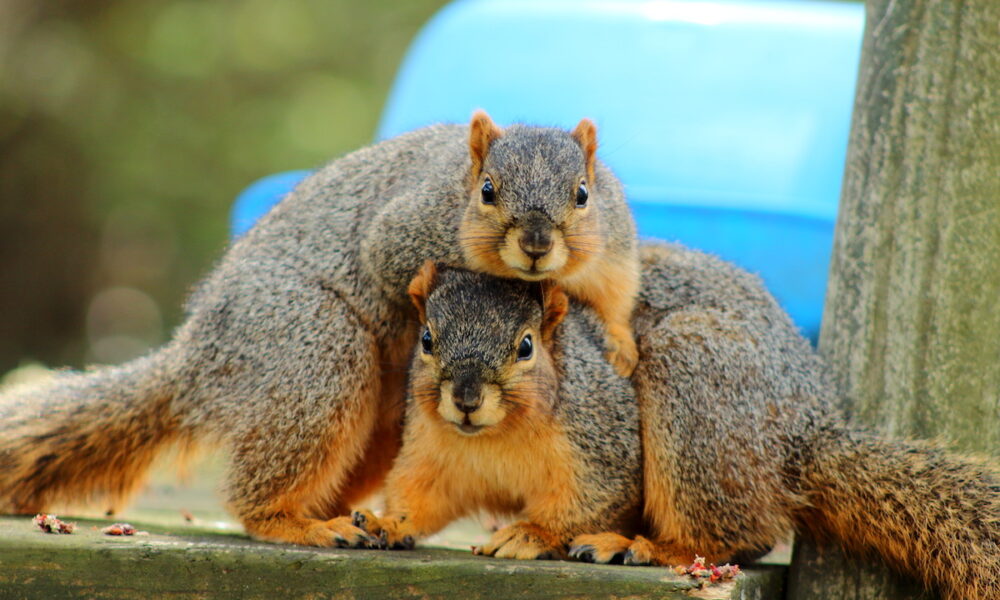 With their big black eyes and adorably fluffy tails, squirrel infestations can be a serious problem for homeowners. These creatures can cause damage to property by chewing on wires, insulation, and structural components of a home. They can also carry diseases and parasites that may transmit to humans and pets. The good news is that with some smart prevention strategies, you can prevent a squirrel infestation in your home.
Where do Squirrels like to Live?
Squirrels prefer to nest in areas that are high up and protected from predators, such as the branches of trees or inside the attics and chimneys of homes. They build their nests out of materials such as twigs, leaves, and grass. These materials provide warmth and protection for their young. Squirrels also like to nest in areas where food and water are readily available, such as near bird feeders or in gardens with fruit and nut trees.
Furthermore, squirrels can cunningly infiltrate homes by exploiting vulnerabilities such as gaps in siding, damaged roof shingles, or ill-fitting vents. Once inside, these persistent critters tend to congregate in dark, secluded areas. This includes attics, basements, and wall cavities. From there, they transform these areas into their cozy, nut-stashing sanctuaries.
Understanding squirrel behaviors and habits is crucial for preventing infestations, as it enables homeowners to recognize signs of their presence and take proactive measures. By identifying and addressing potential entry points, as well as deterring their nesting and foraging activities, homeowners can effectively protect their home from these agile intruders.
Seal Potential Entry Points
The first step in preventing squirrel infestation is sealing off entry points. It surprises many homeowners to learn how easily squirrels can enter your home. In fact, they only need a 1 ½-inch opening to gain access to your home.
But where should you begin when it comes to sealing off entry points from squirrels? Here is a list where you can begin:

Gaps in the roof or eaves
Vents, such as dryer or bathroom vents
Chimneys
Cracks in the foundation
Attic vents or fans
Loose or damaged siding
Holes in soffits or fascia boards
Open windows or doors
Damaged or missing shingles
Gaps around pipes or utility lines
To inspect your home for potential entry points, start by visually inspecting the exterior of your home for any holes, gaps, or cracks that a squirrel could fit through. Check around the roofline, vents, and other openings. Look for signs of squirrel activity such as chew marks or nesting materials. Inspect the interior of your home, especially in the attic, for signs of squirrel entry, such as holes or droppings.
How to Seal off Common Entry Points from Squirrels
Cover attic vents and other openings with mesh or wire screening to prevent squirrels from getting through.
Install chimney caps to prevent squirrels from entering through the chimney.
Repair or replace damaged or missing shingles or siding.
Use weather stripping to seal gaps around doors and windows.
Install metal flashing around the base of your home to prevent squirrels from burrowing underneath.
Trim back tree branches or other vegetation that may be providing squirrels with access to your roof or attic.
Seal gaps around pipes and utility lines with sealant or wire mesh.
Consider using a professional wildlife removal company to inspect and seal potential entry points for you.
Keep Your Property Clean and Tidy

Keeping a clean and tidy yard can discourage squirrels from nesting in your trees and bushes. Too much coverage invites squirrels to your property, where they feel safe and secure. A clean property can discourage squirrels from making nests or attempting to move into your home.


How to Clean Your Property to Prevent Squirrel Infestations:

Remove fallen fruit and nuts from the ground to eliminate a potential food source.
Prune back overhanging branches to make it more difficult for squirrels to jump onto your roof or attic.
Keep your bird feeders and pet food dishes clean and store them in secure containers to avoid attracting squirrels.
To avoid attracting squirrels, it's essential to properly dispose of food waste by using a sturdy, well-sealed trash can or compost bin. Keep the outdoor area clean by promptly removing any fallen fruit or nuts from trees, and avoid leaving pet food outside. Furthermore, consider rinsing recyclable containers before placing them in recycling bins to minimize lingering food odors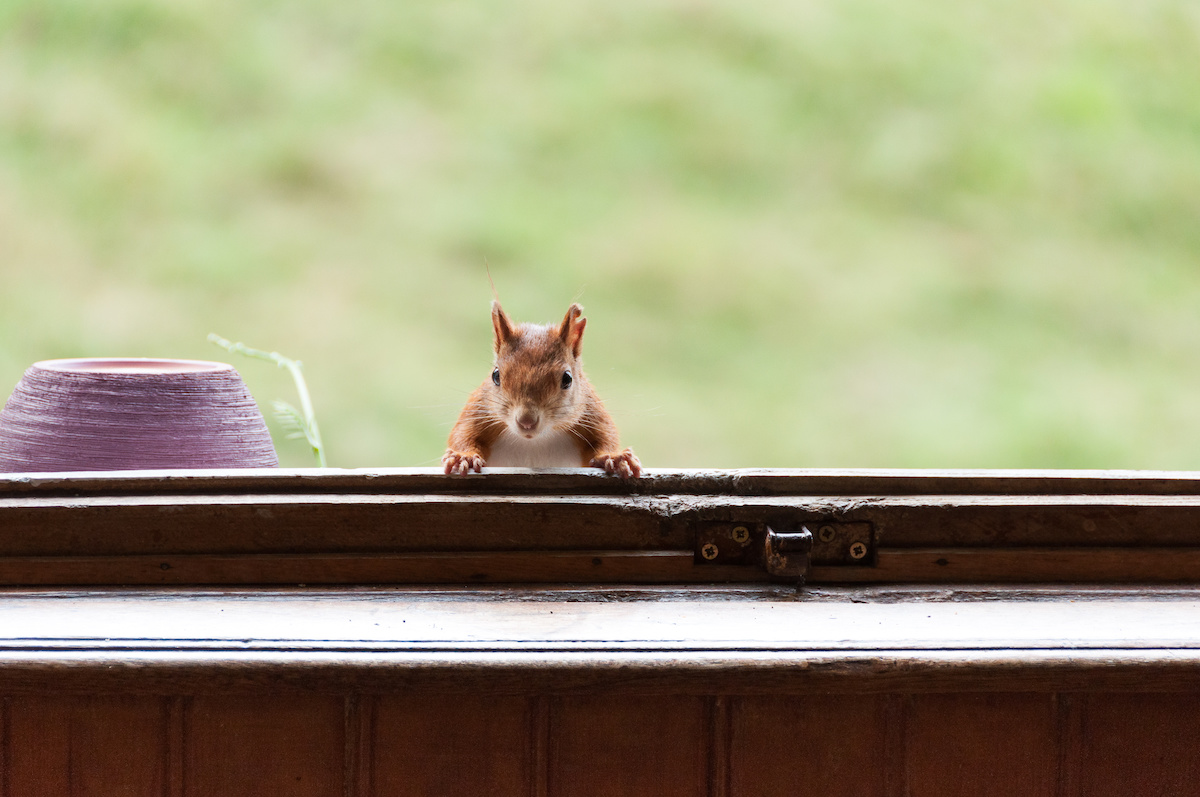 Use Deterrents and Repellents
As a wildlife removal company, we believe that squirrel repellents can be a helpful tool in deterring these creatures from your property. However, they should be used in conjunction with other prevention methods, such as sealing entry points and proper waste management, for the most effective results.

It's important to remember that repellents alone may not provide a long-term solution. In cases of persistent infestations, professional assistance may be required for safe and humane removal.
Squirrel Repellents to Consider

There are various types of squirrel deterrents and repellents to help protect your property from these agile intruders. Sonic devices emit high-frequency sounds that are unappealing to squirrels. Meanwhile, motion-activated sprinklers startle and deter them with sudden bursts of water.
Other options include taste and scent repellents like capsaicin-based sprays, which make plants and surfaces unpalatable to squirrels. Another option is predator urine, which mimics the scent of their natural enemies. Using a combination of these methods can increase the overall effectiveness of your squirrel prevention strategy.
Work with a Professional Wildlife Removal Company

Working with a professional wildlife removal company offers several benefits when it comes to preventing squirrel infestations. Experts can efficiently identify and seal potential entry points, eliminating the risk of squirrels gaining access to your home.
DIY squirrel removal may seem like a cost-effective solution, but it's not a good idea for several reasons. While it's hard to imagine an angry squirrel, squirrels can be aggressive and may attack if they feel threatened.
Furthermore, removing squirrels on your own can be dangerous, especially if you don't have the proper equipment and training. It's also important to note that many DIY methods are ineffective, and may only temporarily solve the problem. You can get rid of squirrels for good with the help of World Class Wildlife Removal.
Get Help with Squirrel Infestations from World Class Wildlife Removal
Don't wait for squirrels to invade your home – take action now to prevent an infestation. By sealing up any potential entry points and trimming back tree branches, you can make your home less attractive to squirrels. And if you suspect that squirrels have already taken up residence, don't hesitate to contact World Class Wildlife Removal for fast and effective removal services. Our team of experts will work with you to develop a customized plan to keep squirrels and other wildlife out of your home for good.