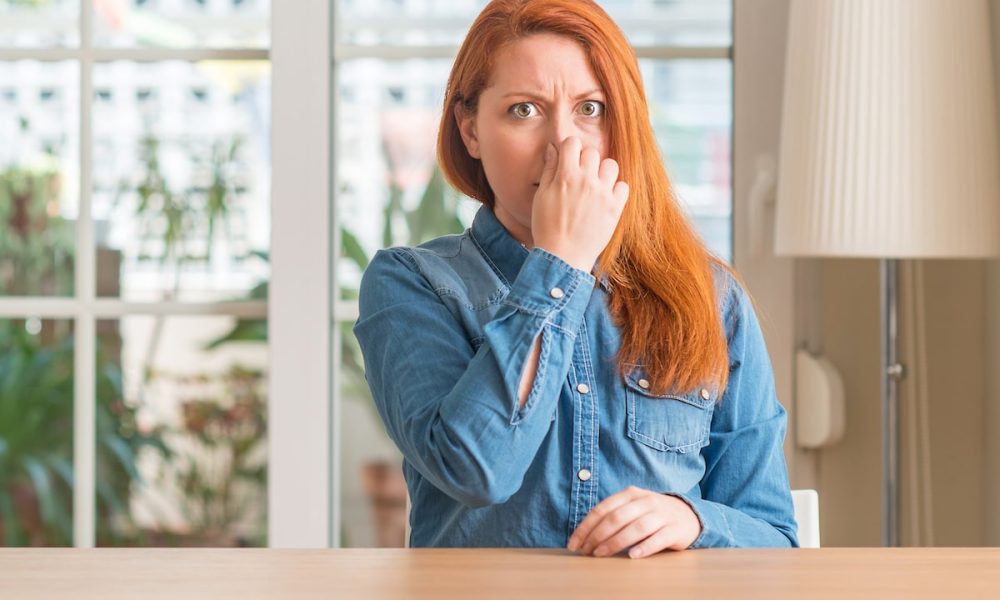 Have you ever smelled a skunk when they let off their odor, which is called "spray"? Believe us, you don't want to be anywhere near that smell. Skunk spray smells so horrid because it consists of a mixture of chemicals containing sulfur (such as thiols), which are notorious for their pungent and nauseating odor, basically like the smell of rotten eggs. A skunk's spray is released from its anus, and the odor is incredibly disgusting.
The spray permeates clothes, skin, and fur, making it last for weeks. Research shows that a skunk's odor can last between 14 to 21 days if left untreated. And the longer you wait to wash it off, the harder it will be to be free of that nasty odor. Skunks release this odor when they feel threatened. They also carry diseases that can be transmitted to humans and pets too. That is why it is so important to keep them from getting into your home or removing them with a professional's help as quickly as possible.
Remove Skunk Smell from Your Home

If a skunk gets into your home, their odor can be quite overwhelming. Removing the unbearable smell should be your top priority. Here are the top ten ways you can remove the smell of skunk from your home.
1. Where is the Skunk Odor is Coming From
The first step is to find the source of the odor. This can be challenging because a skunk's odor quickly spreads from area to area of your home and can easily attach to your furniture as well. Where is the smell the strongest? Once you eventually find this area, take all the steps to clean it up, and then proceed to the other areas.
2. Take your Pets Outside
If the skunk has sprayed your pet, you'll need to move your furry loved one outside immediately to stop the spread of the odor indoors. You will want to wash him or her as soon as possible. Keep them outdoors until the smell is completely gone. This process can take several hours.
3. Open the Windows
Open all of the windows in your home and keep them open as long as you can until the odor is gone. If it is wintertime, it might be challenging keeping the windows and doors open for long periods, but you can do so for short periods of time. Keep the interior door to the garage open, which will still circulate fresh air from outside to the inside of your home. By keeping the windows and doors open as much as possible, this will bring in fresh air to remove the skunk spray out of your house.
4. Turn Ceiling Fans On
Along with circulating the air in your home with the fresh outside air, you'll want to keep your ceiling fans on as well. This will help to recycle the fresh air in and out of your home to remove the odor. Turn on your bathroom vent fans too, as they'll help to remove the skunk odor as well.
5. Wash Clothes that Have Been Sprayed
Wash any clothing that smells like the skunk odor. Do not just leave them on the laundry room floor or basket to wash later.
6. Wash Upholstery and Carpets
Clean the sections of your carpet and upholstery, which have been affected by the skunk spray. Smell these items to determine if they need cleaning or not. The smell can spread quickly from your carpet to furniture and onto your pets. Especially check the high traffic areas.
7. Wash Pet Areas
Pets can spread the spray odor everywhere, so cleaning your pet and the area they hang out in is of utmost importance to remove the smell, or it will continue to spread throughout the house.
8. Put in New Air Filters
Smells can transfer through your Heating and Air Conditioning ductwork, so it is important to put in new filters for your heating and air conditioning units to catch the odor.
9. Air Deodorizers
Until the odor has completely subsided, you can try to use an environmentally friendly air deodorizer. Once your carpets and upholstery have been washed, a new air filter has been put in your HVAC system; an air deodorizer will probably do the rest to ensure that the skunk odor is gone.
If you've encountered the odor of a skunk in or around your home, you may need to hire a professional company to perform a skunk removal. The skunk or skunk family may be living in your attic, crawl space, under a porch, shed, or deck.
About World Class Wildlife Removal

Healthy, safe, organic, and ultra-effective rodent removal services located in Clearwater serving the wildlife removal needs of Tampa, and the Pinellas, Hillsborough, Manatee, Pasco, and Sarasota counties. To request a free inspection, call us at 727.204.8461 or contact us at https://worldclasswildliferemoval.com/contact-us/.