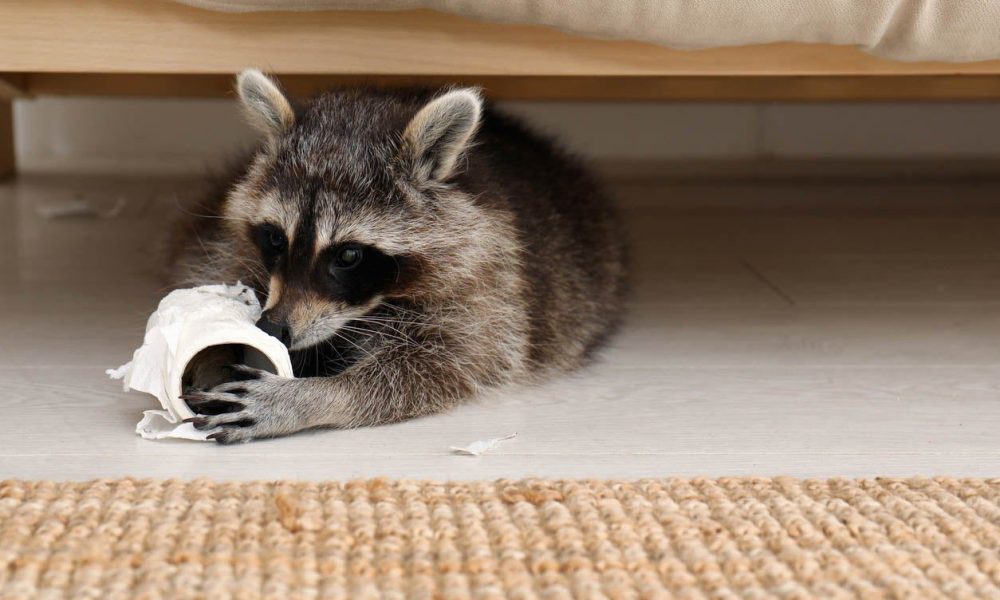 The raccoon population in the United States has recently been increasing at an alarming rate, and these masked critters are now showing up in urban areas where they've never been seen before. With this increase in the raccoon population also comes an increase in raccoon problems, especially regarding raccoons getting into homes to raid food supplies. Raccoons can be very dangerous when they get inside homes because of the risk of rabies infection, so keeping them out of your home is important if you live in an area with an increasing raccoon population.
Keep Garbage Cans Sealed Tight – Some of the best ways you can help prevent raccoons from invading in search of food are by ensuring that your garbage cans are kept tight and not left out overnight. If you use a garbage service, make sure they're also taking out the trash at night. If you're composting, don't put any food scraps in the bin–just plant material. And if you have a backyard chicken coop, ensure it's secure so that raccoons can't get in and kill or eat your chickens or eggs!
Don't Leave Pet Food Outside – If you're a pet owner and live in an area with raccoons, it is important to take steps to prevent them from invading your home. Make sure you are not leaving pet food outside overnight, or any other type of food. Racoons can smell the food and jump fences to get it. If they can get into your yard, they will climb onto the roof or find some other way into your home in search of the food they are craving.
Bring Bird Feeders Inside at Night – One of the easiest ways to deter raccoons is by bringing your bird feeders inside at night. Raccoons are nocturnal animals and do not like bright lights so if you can't bring your feeder in, make sure you put a light on it so they will stay away. Another idea is to place a motion-activated sprinkler near the feeder. Lastly, because food smells and human garbage cans attract raccoons, close up any holes that may lead into your home or garage.
Keep Gardens, And Fruit Trees Fenced Off – One of the best ways to help prevent raccoons from invading in search of food is by keeping gardens and fruit trees fenced off. This will create a barrier between the animals and your home and give you peace of mind knowing that your property is protected. But be aware that raccoons are clever and agile climbers, so invest in a good quality fence with a solid base and angled overhang at the top. And to keep raccoons out entirely, ensure all openings are covered on the ground level, too – they will find an opening if they have to!
Keep Your Yard Clean and Free of Debris – It's important to keep your yard clean and free of debris. Remove trash, fallen fruit, and other food sources that might attract raccoons searching for a meal. Even if you live in an area where it doesn't snow, you should remove plants that produce berries or fruit so that raccoons can't reach them from the ground. You should also bring in compost and fertilizer for your garden before winter sets in. If you have anything stored outside, ensure it's well-secured so no animals can access it. As tempting as it may be, never feed any wildlife–you don't want them returning for more!
What To Do If a Raccoon Invades My House?
If you wake up and find raccoons in your home, you should first stay calm. They may just be exploring or looking for food, but it's best not to provoke them until you figure out what they're doing there. You should also ensure all of your pets are safely inside – raccoons are attracted to dogs and cats, garbage cans (especially if they contain cat food), and leftovers. Call for professional help like Worldclass Wildlife Removal. There is no harm in leaving your doors open while you wait for help to arrive so that any other wandering wildlife has a chance to escape on their own.