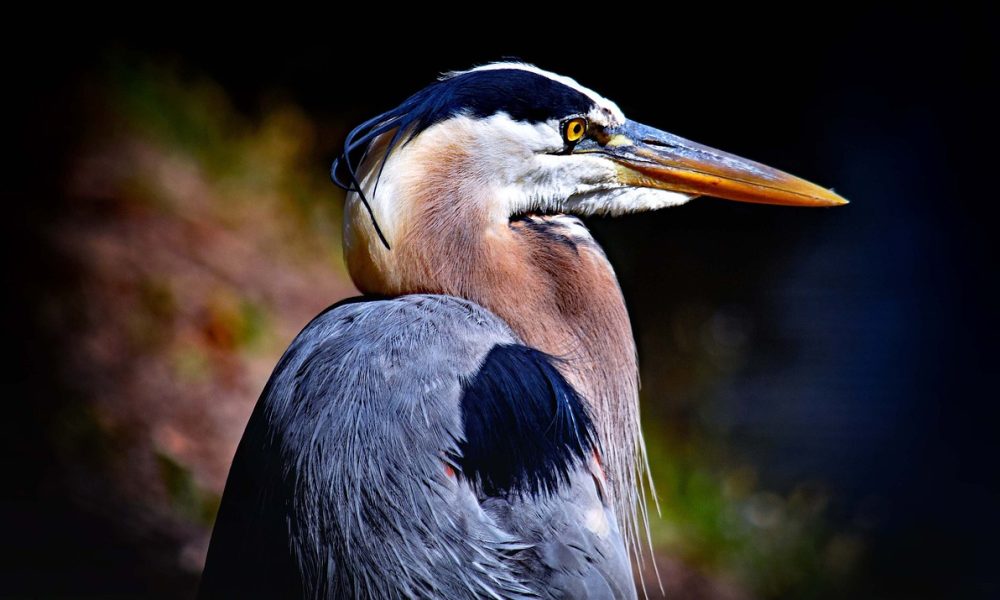 With such a diverse landscape in the state of Florida, you can go from the everglades to the coral reefs, deep into the woods, and then into the big city. And these diverse terrains come each with their own wildlife. Indeed, a day looking at nature in Florida could be quite an adventure and it is important that we appreciate Florida's wildlife.
Although our job at World Class Wildlife Removal is to take animals and pests off your property, our team respects all forms of wildlife. In fact, it would be rather challenging to do this job if we didn't enjoy all the animal kingdom has to offer.
So join us on a look at some of the diverse wildlife found in the various habitats around the state of Florida.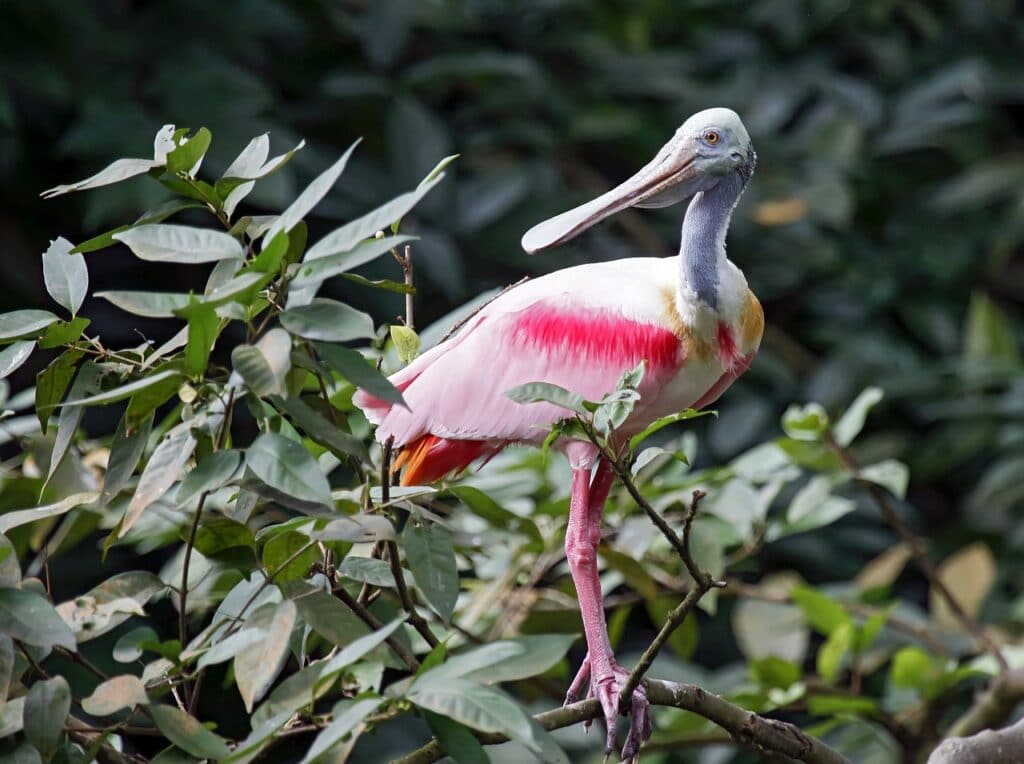 Florida's Wildlife on Land
Florida is home to several terrestrial ecosystems. In fact, there are 45, including subtropical hammocks, rock lands, dry prairies, sandhills, scrubs, flatwoods, and floodplain forests. As you can imagine, each area is ideal for the animal and plant life it holds. Since there are so many, here is a brief description of some of the more common land animals Florida has come to love.
Armadillo- With their leathery banded shells and long claws, these critters dig their way through Florida. Although they have short legs, they can move surprisingly fast. They eat insects like ants, termites, and grubs.
Key Deer- This type of deer lives in the Florida Keys and is on the endangered list. It is the smallest American deer and has reddish to gray-brown fur and looks similar to the whitetail deer. The fun fact is they swim from island to island. Furthermore, they live on plants like mangroves and palm berries.
Bald Eagle- The bald eagle has a white head and lives near large bodies of open water so they can readily get fish to eat. And, of course, it is the national bird of America.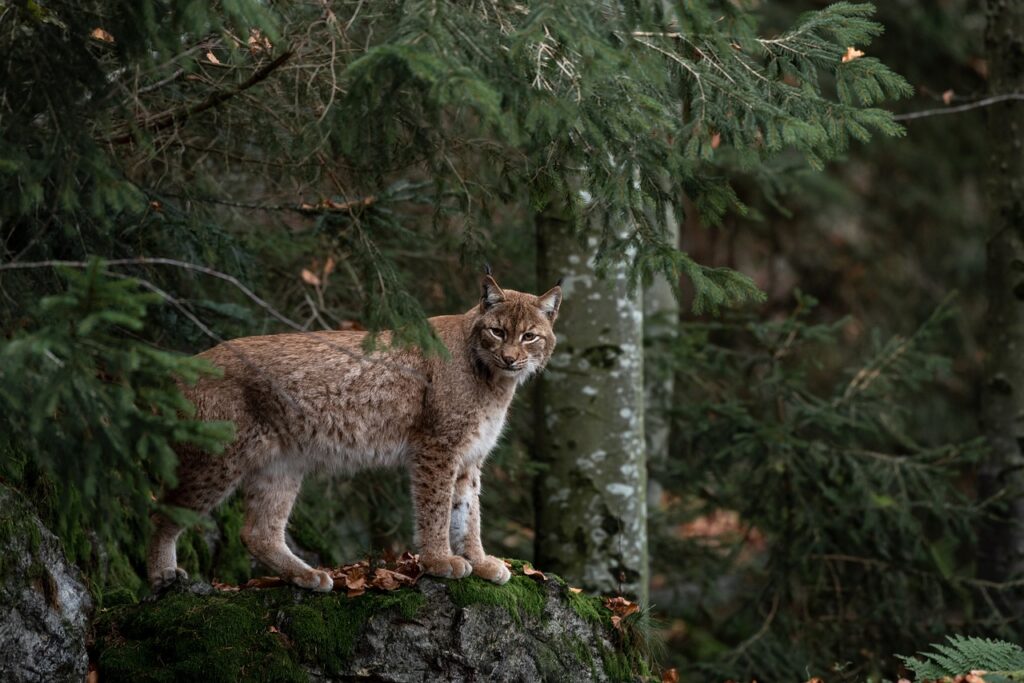 Bobcat- Often called a red lynx, these wild cats are medium size. They have bold black bars on their legs and a short, stubby black tail. Preferring to eat rabbits, the bobcat will also eat insects, chicken, geese, birds, rodents, and deer.
Butterflies- The butterflies of Florida eat nectar and spread pollen for the plants of the state. They are an essential part of keeping the plant life we love alive and spreading.
Squirrels- The squirrel is a small rodent that needs removal if they enter your home or attic. They can be aggressive if you try to catch them. In the wild, they jump from treetops to tree branches building their nests and collecting food for their families.
Raccoon- Raccoons are also known as "masked bandits" with their black mask eyes and their striped tails. Unfortunately, they are also known to be thieves as they are pretty intelligent collectors and have hands much like humans. What's more, they are also a massive problem if they enter your home.
Rodents- Rats and mice are all over Florida, unfortunately. To be a rodent, the animal must have a continuously growing pair of incisors on the upper and lower jaw. And they are primarily herbivores. But as you probably know, rats will eat anything.
Green Anole- A tree-dwelling lizard, these anoles can change coloration from green to brown. It Is small and slender with a pointy head. They eat crickets, grasshoppers, flies, roaches, moths, spiders, and other insects. They are excellent pest control and are of no harm to humans.
Gopher Tortoise- On the threatened list of animals, the tortoise is a big part of the Florida habitats. When it digs a burrow, the tortoise will share it with around 360 other types of animals seeking shelter. They are herbivores eating plants and fruits.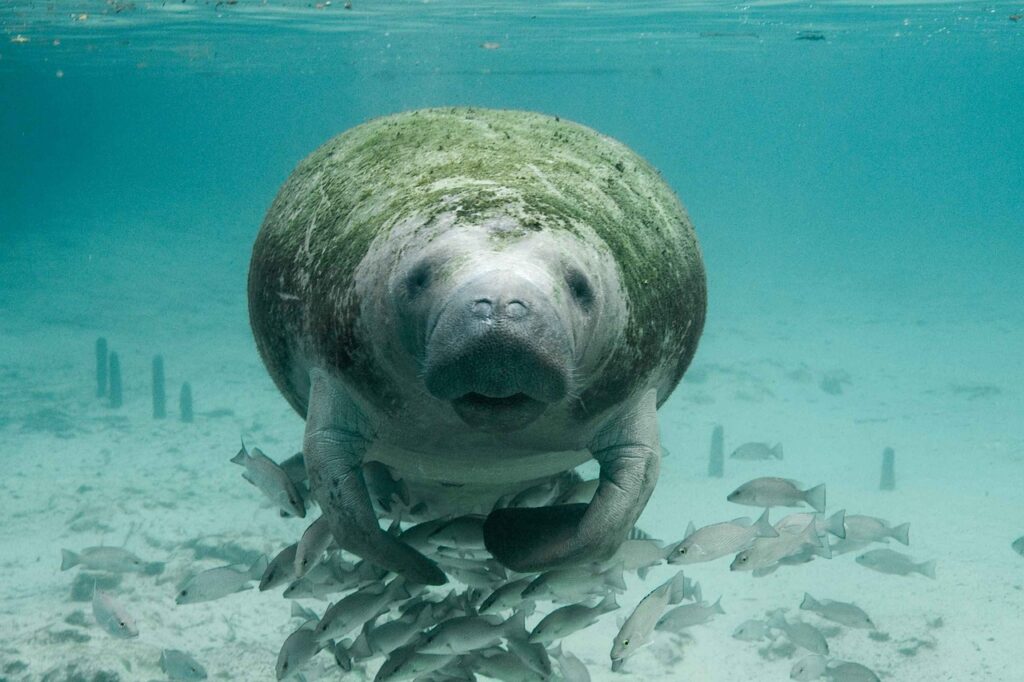 Florida's Wildlife on Water
In Florida, we are fortunate to have over 1,200 miles of beautiful coastline. Those coasts have estuaries, seagrass beds, coral reefs, mangrove swamps, and connect to lakes, rivers, springs, and streams all over. Clearly, these areas provide for an altogether different set of wildlife animals and plants. Below is the list of some of the ones We would like to highlight.
Manatee- Manatees are a walrus-like animal that is near and dear to Floridians in the manatee. Often called a sea cow, these large mammals are herbivores and live their lives slowly moving through the waters.
Otter- The otter is a slender brown animal that glides through the water effortlessly. They are carnivores, eating fish, frogs, crayfish, and crabs. And they are quite playful when you stop to watch them.
Beaver- This rodent is characterized best by its large paddle-like tails and gray or brown fur. They live in freshwater environments and are herbivores.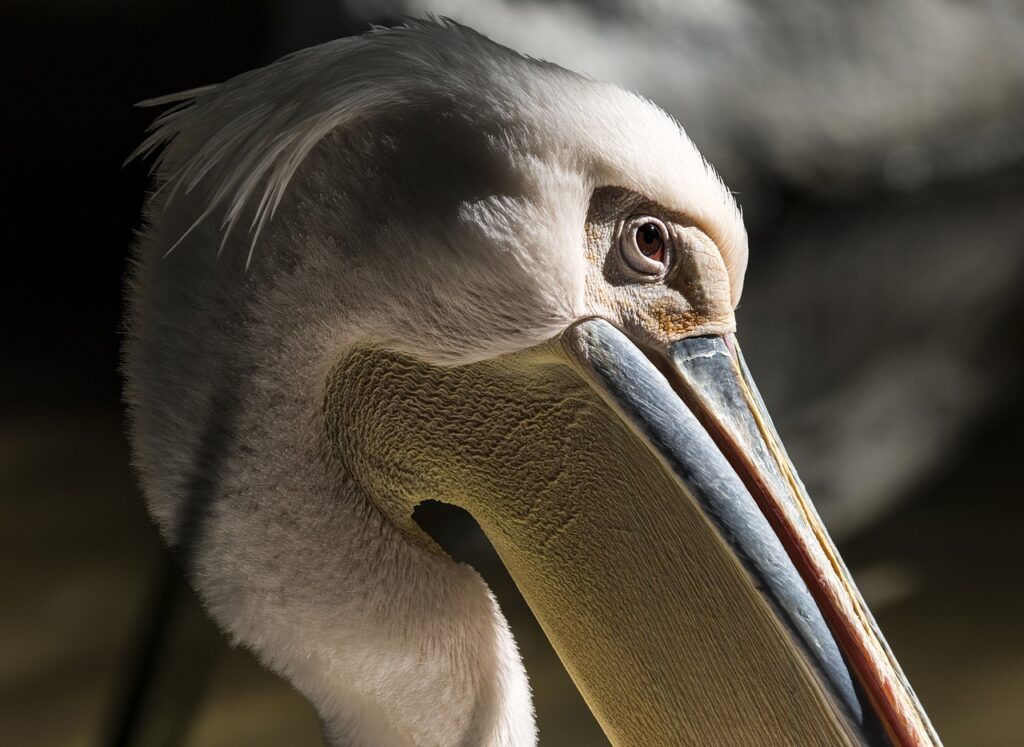 Pelican- The pelican seems to be an iconic part of Florida's artwork. They are large birds with throat ouches for catching fish. Additionally, they are in both inland waters and on the coastlines. Most often, they hang out near fishing docks waiting for discard from the fisherman.
Great Blue Heron- This large wading bird lives near open waters and inland as well. They are the largest heron in Florida, and they eat small fish, shrimp, crabs, insects, rodents, reptiles, amphibians, and birds.
Roseate Spoonbill- These beautiful birds have the spoonbill indicated by the name, a greenish head, and gorgeous pink feathers. They eat crustaceans, frogs, reptiles, and small fish.
Sea Turtle- A critically endangered species, the sea turtle is critical to the ecosystem of the Florida waterways. They keep the see grasses trimmed and in control. Those grassy areas provide for other sea animals.
Atlantic Bottlenose Dolphin- This is the common Florida dolphin you can see playing in the open waters. They are very social and love to show off for boaters. They eat fish, eels, squid, and shrimp.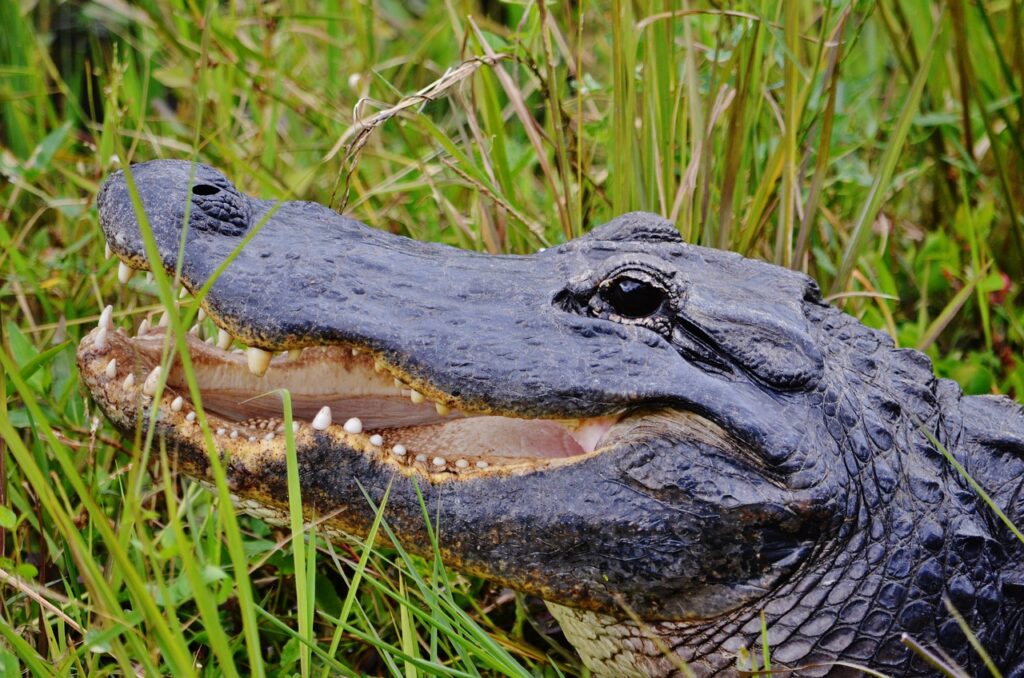 The Dangerous Animals of Floridas's Wildlife
When misplaced, almost any animal can be unpredictable, if not dangerous. Most animals just want to be left alone to go about their daily business. That said, these are the animals homeowners should leave to professional wildlife removers to be on the safe side.
American Alligator- These gators live in wetlands, marshes, swamps, and near lakes. They have large, round snouts and are darker than crocs. And they are APEX predators who eat fish, frogs, reptiles, birds, and mammals.
American Crocodile- These are the pointy-nosed, lighter colored, toothy grinned, saltwater version. Interestingly, they live in South Florida, where there are also alligators.
Florida Black Bear- These bears are omnivorous medium-size bears. They live in forests but will come out when searching for food. It has a light brown nose and a white blaze on the chest.
Venomous Snakes- Most of the time, snakes you see in Florida are not venomous. But the two venomous types are the pit viper family and the Coral snake. Floridians and visitors alike should avoid them at all costs. Hikers in the forests and marshy wooded areas of Florida should always wear snake boots.
Florida Panther- Living in south Florida, the panther is an endangered species. Also, they are of tan color with blue eyes. They eat small mammals, rodents, rabbits, pigs, waterfowl, and even small alligators.
Non-Native Species of Florida's Wildlife
Many other animals on the list of Florida's Wildlife are non-native to the state. This list includes but is not limited to:
Parrots
Iguanas
Certain Snakes
Types of Frogs
Some Lizards
Some of these were once pets and have made the great escape were left there. Others have jumped into shipping containers, on boats, or ridden the train to the area and have no choice but to make a home here. The problem with these animals in Florida is that they compete for the resources mature provides in the area. Then some of the native animals of Florida are being overtaken by new species and they change the very habitat.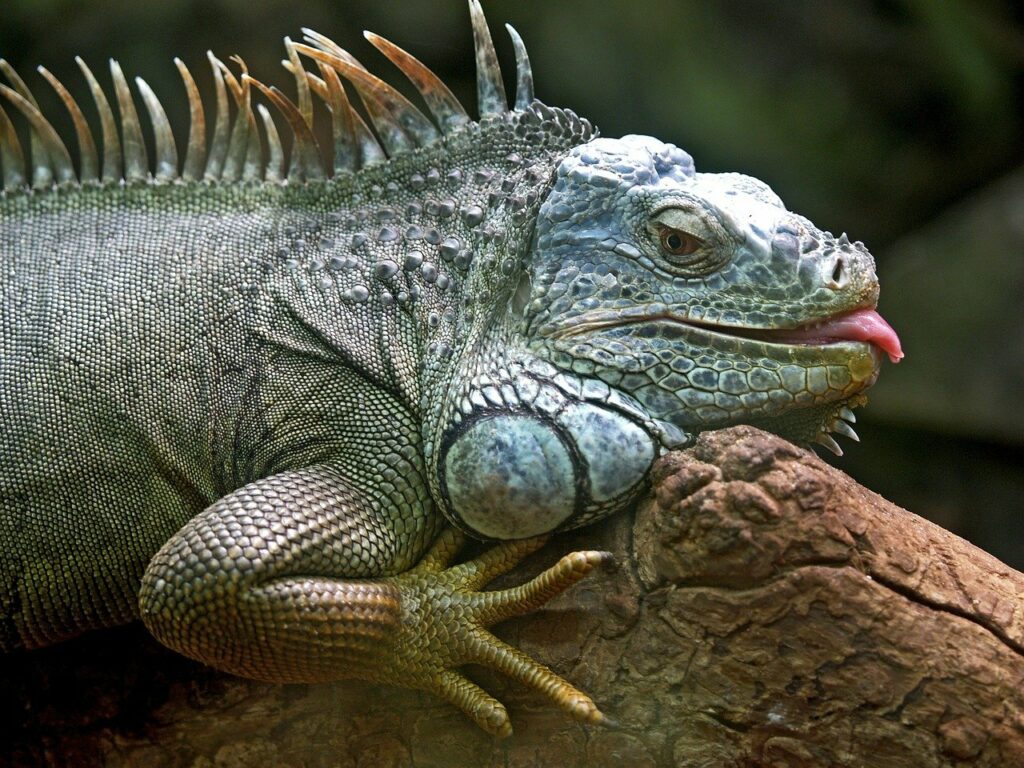 Appreciating Diverse Landscaping
Florida's wetlands, rivers, and forests are a big part of the animal kingdom's survival. But with an ever-growing state, these spaces are growing slim. When entering a protected area, the humans are the intruders. We should do our best as a part of the animal kingdom to respect these places by replenishing resources, keeping litter and pollution out, and by leaving the animals that live there alone.
Appreciating the beautiful Sunshine State landscape we live in is how we can all take part in preserving these animals of Florida for generations to enjoy.
World Class Wildlife Removal Helps Floridians Deal With Florida's Wildlife
The World Class team performs wildlife removal, decontamination, exclusion, and remediation for Florida homes and businesses. We are eco-friendly and family, and pet-safe. Our team is available 24/7, and we can be at your home within an hour at your request. Call 727-754-8585 for the best wildlife removal West Florida has to offer.