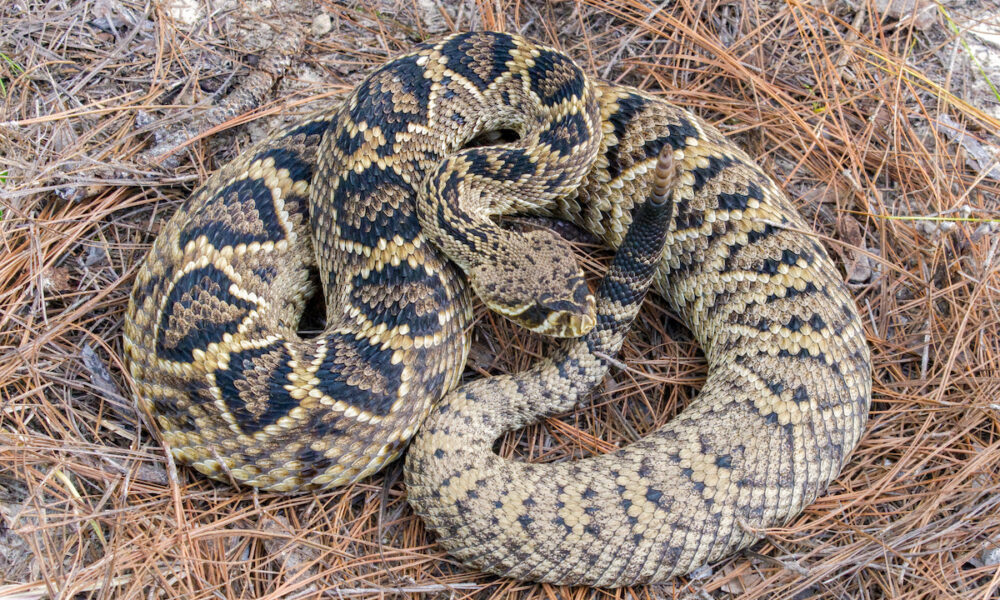 Snakes are no strangers to Florida. With 44 native species, the sunshine state is home to a variety of venomous and non-venomous snakes. These pests lurk in many places including homes, businesses, and even in public spaces. Snake infestations in Florida can be dangerous, costly, and difficult to resolve.
One of the most dangerous aspects of snake infestations is the potential for harm to humans. Snakes can bite and inject venom, causing serious injury or even death. In addition, snakes can be carriers of diseases and parasites, which can be transmitted to humans through contact with their saliva or feces. This can be particularly dangerous for young children and pets, who may not be aware of the dangers of coming into contact with snakes.
In this blog post, we'll discuss the eastern diamondback rattlesnake, water moccasin, and the Florida banded water snake, as well as how to safely and effectively handle a snake infestation.
Why You Need to Worry About Snake Infestations in Florida
The cost associated with snake infestations can also be significant. Snakes can cause damage to property, leading to costly repairs and potential legal costs. In addition, the removal of the snakes may require the services of a wildlife removal company. Even if the snakes can be removed safely, there may be costs associated with replacing damaged items or making repairs.
Meanwhile, snake infestations can be difficult to resolve. Snakes may be difficult to locate and can hide in small, hard-to-reach places. Once located, it can be difficult to remove the snakes without causing injury to yourself or the snake. In addition, the snakes may be protected species and cannot be killed, making humane removal the only option.
With these issues at hand, it is important to take the necessary steps to prevent snake infestations. You may also need to seek professional help if a snake infestation occurs. Snake infestations can be a serious problem.
Identifying the Types of Snakes in Florida
What are the different types of snakes in Florida? It's important to first identify the type of snake you are dealing with before you attempt to handle the infestation. The last thing you want to deal with is a venomous snake!
But what are the different types of snakes you might encounter in our state? If you are in the midst of an infestation, your snakes might be one of these species:
Eastern Diamondback Rattlesnake
A Eastern Diamondback Rattlesnake is a species of venomous snake found in the southeastern United States. This species is considered to be the largest rattlesnake in the world, with an average length of three to six feet. This species is easily identified by its distinctive pattern of diamond-shaped markings along its back, as well as its rattle at the end of its tail, which it shakes to warn potential predators.
Water Moccasin
A Water Moccasin, also known as a 'Cottonmouth', is a venomous snake that is native to the southeastern United States. It is typically found in or near bodies of water, such as lakes, ponds, rivers, and swamps. The Water Moccasin is a member of the pit viper family and is one of the most dangerous snakes in North America. To identify this snake, look for a thick, block-shaped head. The Water Moccasin can reach a length of up to four feet.
Banded Watersnake
A Banded Watersnake is a venomous species of snake found in North America. These snakes are usually found near bodies of water where they feed on fish, frogs, and other small aquatic creatures. Their coloration is variable with a series of alternating dark and light bands running along the length of their body. You'll find square-like patterns near the belly and a dark stripe running from the jaw to their eye.
Meanwhile, the Banded Watersnake are active both day and night. They are considered to be a non-aggressive species, but will bite if they feel threatened. This is not a venomous snake but you want to avoid getting bit.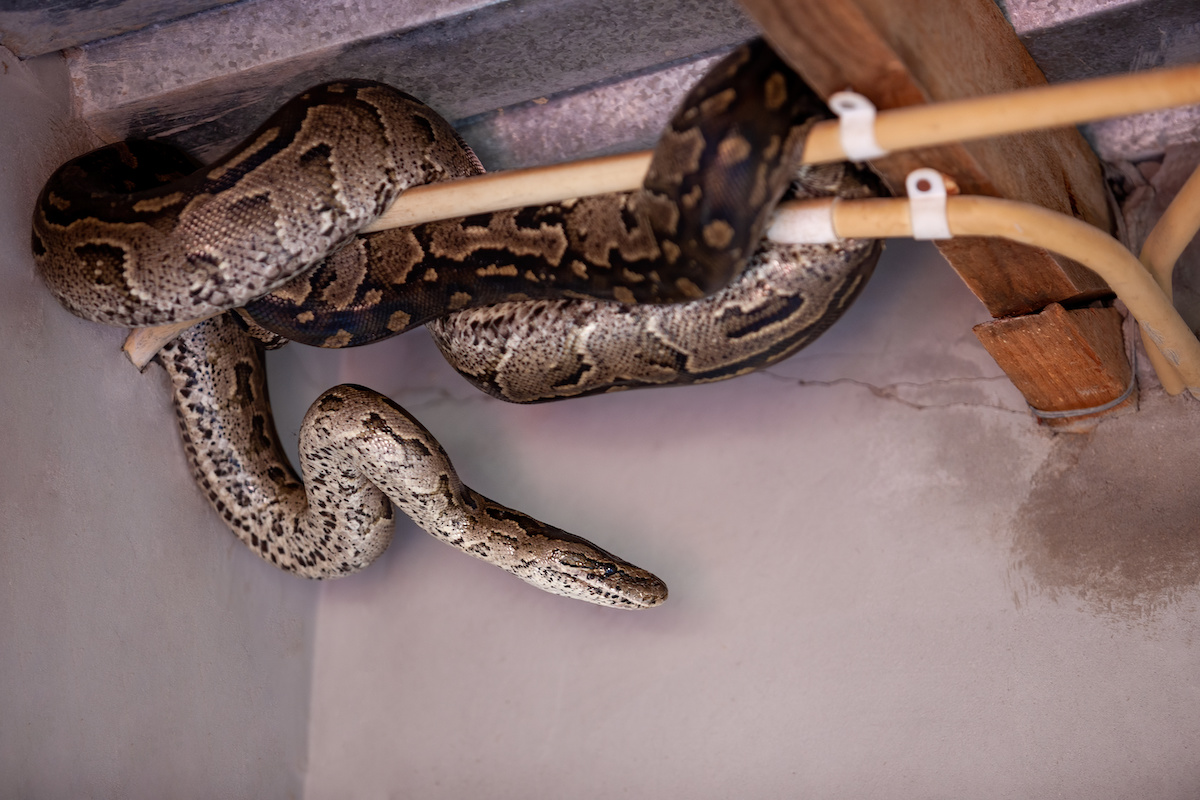 What are the Signs that You Have a Snake Infestation?
If you suspect that you have a snake infestation, it's important to be able to recognize the signs of a snake infestation. Keep an eye out for the following clues:
The most obvious sign of a snake infestation is the presence of snakes themselves. You may see them in the garden, around the house or even inside the home.
Other signs of a snake infestation include snake skins, droppings, or tracks.
Droppings are usually found in attics and garage spaces.
Snake skins are shed when snakes grow, so you may find evidence of this around your property.
If you're not seeing any of these signs of a snake infestation, you can look for signs of them in other ways. You can also observe the behavior of your pets. Tthey may act differently than usual when they come into contact with snakes. Pets may bark or scratch at the walls or floors more than usual.
You may also hear noises around your home at night, since snakes are active during all hours of the day. If you live in an area that is known for snake infestations, you may want to check for signs of a snake infestation more frequently.
If you see any of these signs of a snake infestation, it's important to take action as quickly as possible. Snakes can cause a lot of damage to your home and property, so it's important to be proactive in getting rid of them.
How to Handle a Snake Infestation
When dealing with a snake infestation, it's important to take proper precautions to avoid snake bites. If you spot a snake, do not attempt to capture or kill it as this can be very dangerous. The best way to handle a snake infestation is to call a professional snake removal service.
Professional snake removal services are experienced in safely and humanely handling snake infestations and can be trusted to do the job right.
If you have a snake infestation, there are some things you should not do. The first and most important rule is not to panic. Snake infestations can be very dangerous, but panicking will only make the situation worse. The second thing to avoid is trying to deal with the infestation yourself. Snakes can be unpredictable and dangerous, and it's best to leave dealing with them to professionals.
Another thing to avoid is trying to kill the snakes yourself. This can be very dangerous, and even if you manage to kill a snake, you won't be able to get rid of the entire infestation. Also, killing a snake may make other snakes in the area more aggressive.
The good news is that you don't have to worry about snake infestations in Florida by yourself. World Class Wildlife Removal can safely remove snakes from your home. When you find yourself face-to-face with snakes, contact us now for help.