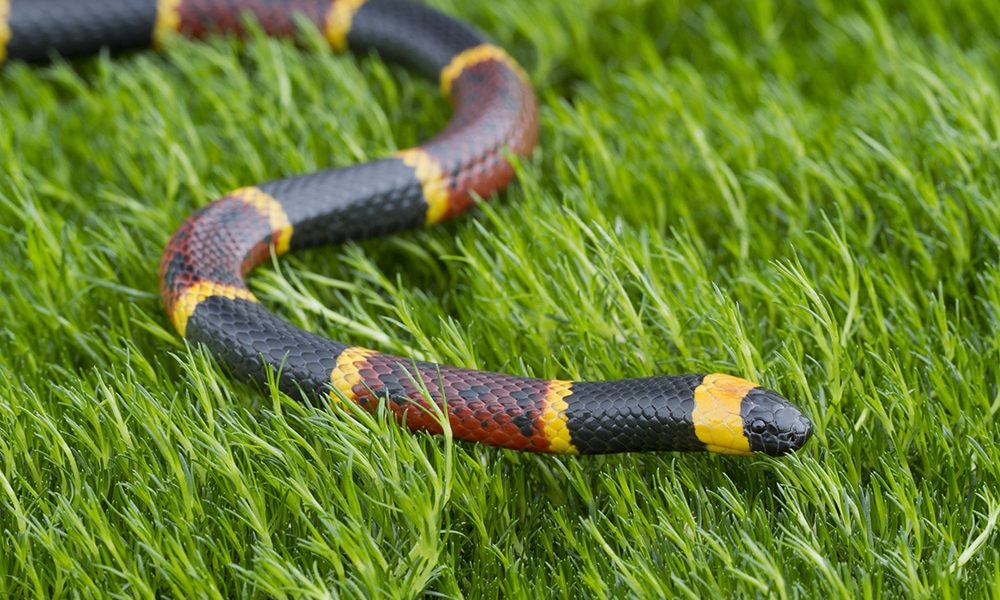 The eastern coral snake, or Micrurus fulvius, is one of the prettiest snakes in North America. It's also venomous, so it's a good idea to have a professional come and remove it if it's found in the home. It's from a family of snakes called elapids, which have short, hollow fangs used to inject their prey with venom. This makes it a relative of the king cobra, even though it's found in the southern United States. Indeed, another name for the snake is the American cobra. It's also called the common coral snake or the coral adder. It's a common snake, and its International Union for Conservation of Nature and Natural Resources listing shows that it is of "least concern."
How to Identify
The snake can be identified by red and black bands separated by narrower yellow or white bands. Its head is black and so is the end of its tail. Scientists believe the snake uses this to confuse predators and prey, who at first can't tell if they're at the front or back end of the snake. The coral snake also rattles its tail if it's bothered.
The common coral snake likes to burrow in rotting logs or under soil, leaves or rocks in dry forests. It can also be found in marshy places. An adult eastern coral snake is two to three feet long with smooth scales. There are 15 rows of these scales in the upper part of the snake's body. Male snakes have longer tails, but females are longer overall.
Despite the potency of its venom, the snake s fairly docile, at least to humans. It will, however, attack and even eat other coral snakes. It also eats other types of snakes, fish, birds, frogs, insects and lizards. Its venom, which is a neurotoxin, makes quick work of its prey. The coral snake resembles other, harmless snakes, such as the scarlet snake or scarlet kingsnake. It may be better to say that these snakes resemble the coral snake. Mimicking the color of the venomous snake may cause predators to leave these harmless snakes alone. This is called Batesian mimicry. One way to tell a scarlet kingsnake from the eastern coral snake is the saying, "Red on yellow, kill a fellow; red on black, venom lack."
Behavior
The eastern coral snake is active during the daytime and especially active in spring, late summer and into the fall. This is also when the snake breeds. Female snakes are ready to breed when they're between 21 and 27 months old, while males are ready to breed when they're between 11 and 21 months old.
After mating in June, the female is gravid for about 37 days. She'll then lay five to seven eggs, which makes the snake the only egg-laying venomous snake in North America. The young hatch about two months after the eggs are laid. They're about 7 to 9 inches long
When in captivity, the snake lives for about 7 years. Its venom is used to make antidotes for snake bites and is being studied for possible use for other diseases such as AIDS.
What to Do If Bitten
Eastern coral snakes rarely bite unless they are harassed, and deaths are even rarer since an antivenin was developed. If a person is envenomated, at first the bite is not particularly painful, and there is a bit of swelling. If the bite isn't treated promptly, the rate of death is about 10 percent.
As a neurotoxin, the snake's venom destroys the ability of the nerves to communicate with each other. After a few hours, the person starts experiencing such symptoms as drooping eyelids, difficulty in swallowing, headache, stomach pain, paralysis, and convulsions. They may also go into shock. The patient should be kept quiet and taken to the hospital. Unlike in the movies, the snake bite shouldn't be cut into and suctioned out. The patient shouldn't be given a tourniquet, a cold compress, or have the affected area raised above their heart.
For more information on snake removal, visit World Class Wildlife Removal's snake removal page at https://worldclasswildliferemoval.com.