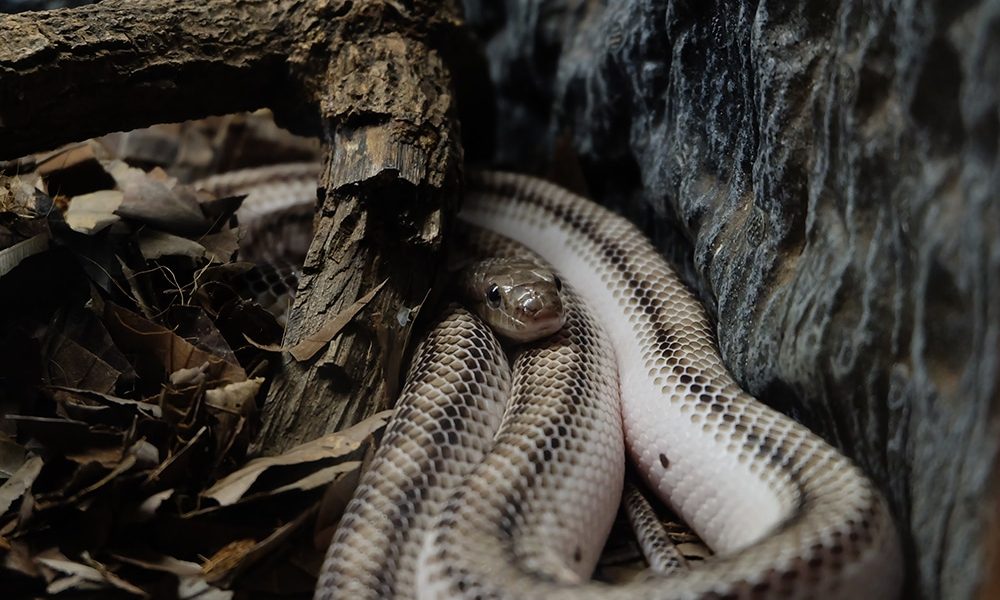 Like many animals, snakes that get into your home or outbuildings are looking for shelter from the elements. They're also looking for food. To reduce the risk of snakes in your home, there are several steps you can take. Once you have them, getting rid of them will take different tools.
Know the Signs
If you haven't seen a snake in your house, how can you know you have one? You'll find shed skins, or moults, laying around. You may also hear bumps and thumps in dark basement corners or crawlspaces. Finally, if you once had a mouse problem but don't anymore, you may be host to a well-fed snake.
Remove Camouflage
If there are plantings against your foundation walls, work around the house and
trim back branches that create shade and darkness against the house
don't let plant matter or mulch pile up against the foundation
keep an eye out for roots that may cause cracks in the foundation
Additionally, if you hang your garden hose against your house, make sure that you keep it coiled and elevated off the ground. Snakes are natural hiders and often need shade in the hottest part of the day. If there's a light gap along your foundation where the sun can reach, they'll be less likely to seek a refuge inside your house.
Rocks
There are many landscaping trends that include rock formations near or against your house. If there are any venomous snakes in your part of the world, find a way to use these features away from your foundation. Rocks are a natural habitat for snakes. Put them close to your foundation, and the snake can move easily from rockpile through your foundation into a nice cozy spot in your basement.
Plug Up Holes
Snakes need very little wiggle room to make a space in your home. If, in your root search, you find holes in the foundation, fill them with an appropriate product, such as expanding concrete. Be aware that if you do this while a snake is hiding in your home, you just locked them inside. Your best bet is to contact a professional pest removal service to get rid of snakes before plugging the holes.
Don't Feed Them
As noted above, a sudden absence of rodents may mean that you have a snake. While working on your snake problem, also be ready to work on your mouse or rat problem. Invest in traps, both humane and snap, to capture and kill or remove snakes. If you have an interest in protecting wildlife in your region, be aware that poisoned mice can also be toxic to the owls and other animals that consume rodents.
To make your snake want to leave, do your best to deny them food by getting a handle on rodents in your house. If you don't, be aware that you'll likely have a rodent problem once the snake has been relocated.
This is Not a DIY Project
You may be tempted to get rid of snakes in your crawlspace or basement on your own. However, this is a very bad idea. Nearly all snakes in North America are not venomous and pretty much all of them are more afraid of you than you are of them. However, any cornered critter will get aggressive if you push it far enough. It takes special tools to capture and remove a snake. Even if you plan to kill it, you might end up injuring it and watching it crawl off to die under your home before you can finish the job. How long does it take a snake to completely decompose? A DIY snake removal would be a bad way to find the answer to this question.
To get snakes out, call a pro. To keep snakes from getting in, keep an eye on your foundation, and don't create any havens for them to hang out along your foundation. Don't feed them; get a handle on any rodent problems so the snake will seek out a more hospitable house.