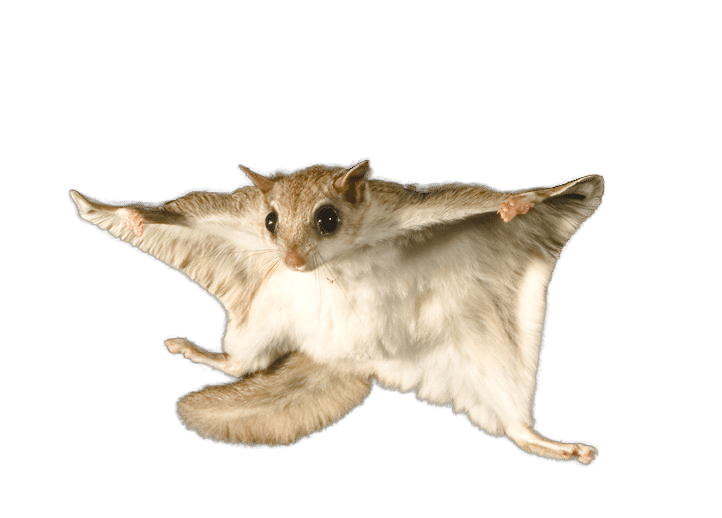 So, What is a Flying Squirrel?
Before you decide if they are a problem, you should discover what flying squirrels really are and are not. They are precisely what their names suggest, but not really. Confused?
The best way to approach this issue is with the body of the flying squirrel. This variety is 3 inches to two feet in length. And can weigh up to 5.5 pounds. These little squirrels can soar from tree to tree in incredible lengths. However, the flying squirrel does not really fly. It glides like a glider plane.
There is a flap of fur-covered skin that stretches from the wrist to the ankle of the squirrel. When extended, the animal takes on a square shape using the skin's flaps as a parachute of sorts. This piece of incredibly engineered excess skin is called the Patagium, and it can help the flying squirrel glide 150 to 500 feet.
Flying Squirrel Appearance and Behavior
Adorable flying squirrels look a lot like a ground or tree squirrel. They have the same small round face, large eyes and ears, and long fluffy tails. Some people even keep flying squirrels as pets, although it is not always legal in some parts of the world.
Being both omnivorous and nocturnal flying squirrels have a highly developed sense of smell. They come out at night to forage for food like seeds, nuts, tree sap, fruit, flowers, fungi, insects, and sometimes eggs.
Are Flying Squirrels a Problem?
When kept as pets, they are an entertaining, albeit loud pet. They are fun to watch when they socialize, chatter, play, and interact. In that case, they are kept in a cage and are no problem. When they stay in their natural habitat outdoors, they are also not a problem.
The problem arises when they get into your home, attic, ceiling, or walls, and here is why.
Flying Squirrel Reproduction
With two to seven pups per litter, the flying squirrel will reproduce twice annually. That is a pretty fast rate of reproduction, making an infestation the beginning of a larger problem.
Getting In Your Home
If you hear the chatter at night or the pitter-patter of their little feet, you may have flying squirrels in your attic or ceiling. You see, when temperatures cool, they will look for a place to nest and keep warm.
As tiny as they can be, they can squeeze into even more places than the ground or tree squirrel.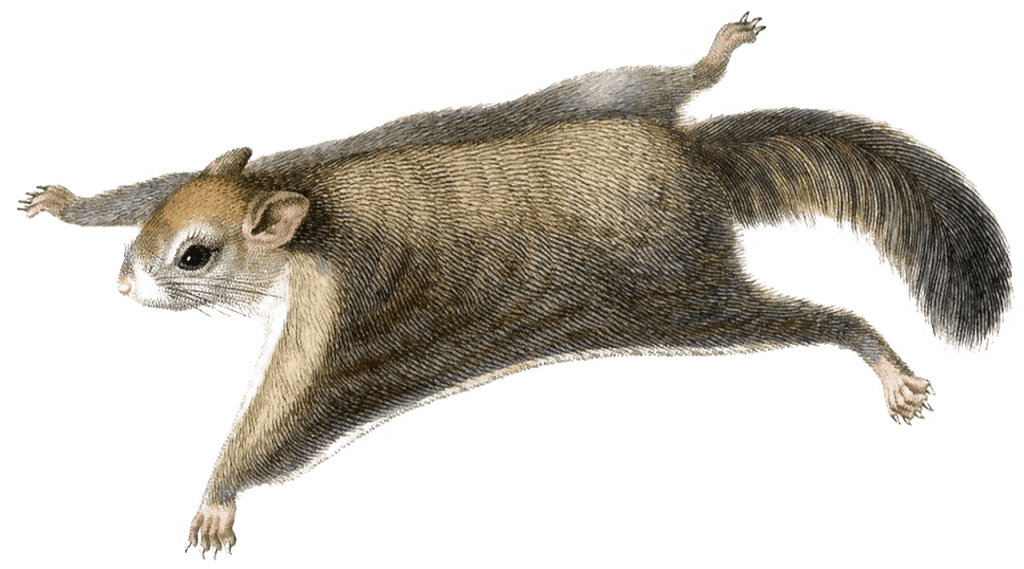 Damage they Create
Flying squirrels, although they look innocent, can create much damage. Here are a few signs of harm you may find.
Torn attic insulation and stored clothing used to make their nests.
Wires chewed on can short the power in your home or even cause a fire.
The smell of ammonia is an unbearable scent left behind by the flying squirrels.
Droppings everywhere are a sure sign and are gross.
Signs of a Flying Squirrel Infestation
The signs for a rat, mouse, tree squirrel or flying squirrel are very much the same. If you notice chew marks on wood or the roofline and small entry points, you may have a problem. In the evening, you will hear the endless chatter and playful sounds they make. They are very social and will live in a colony of 20 or so squirrels.
Health Threats
Fortunately, this is one you don't have to worry about too much. Besides the smell of ammonia and the damage they create, flying squirrels are relatively harmless. Fortunately, they do not carry rabies. However, they will leave behind fleas, ticks, lice, mites, and parasites.
Preventing Flying Squirrels from Entering Your Home
There are a few things you can do to keep pests from entering your home. You can…
You can cover any entry points like small holes, gaps, cracks, and open vents with wire mesh.
Cover spots chewed with metal sheets.
Keep outdoor plants off the home.
Remove food sources from their reach.
It is best to leave the removal of flying squirrels to the experts like those at World Class Wildlife Removal. You see, the flying squirrels are a protected animal in some areas. At World Class, we know the laws around treatment and where to take endangered and protected pests.
So, if you think you might have a rodent problem or know you have flying squirrels, call the experts at World Class Wildlife Removal as quickly as you can. The longer you wait, the more damage they will create. You can trust World Class to get rid of the flying squirrels safely and humanely.
After removal, the friendly technicians at World Class will clean the mess made and disinfect the area. So, if you have any rodent or flying squirrel problem, don't hesitate. Contact World Class Wildlife Removal right away.