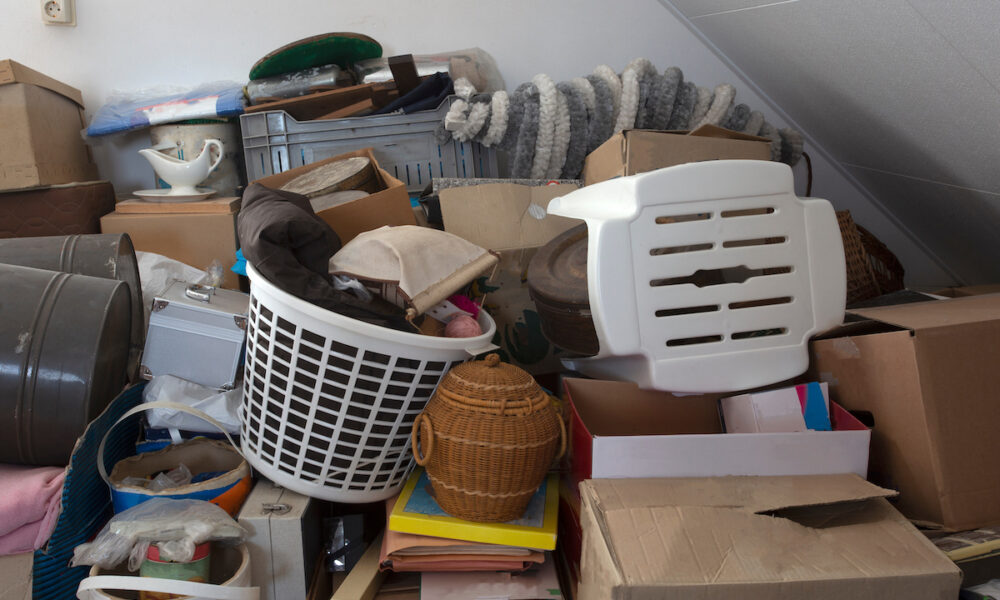 Cleaning a hoarder's home can be an overwhelming and daunting task. It may seem impossible to even begin. But with the right preparation and planning, it is entirely doable. If you are wondering how to begin cleaning a hoarder's home, this blog can help provide a starting point.
Hoarders, or people with compulsive hoarding disorder, can often struggle with disorganization and clutter. This makes it difficult to know where to start. It is important to have a plan and approach the process with patience, understanding, and compassion.
Clear communication and open dialogue are also helpful when trying to tackle the task of cleaning a hoarder's home. With the right attitude and elbow grease, you can make a hoarder's home a safe and welcoming environment.
Understanding Hoarding Disorder
If you are wondering how to begin cleaning a hoarder's home, the first step is to understanding hoarding disorder. Hoarding is a mental disorder that is characterized by excessive, uncontrollable collecting of items that are of little use or value, and the inability to discard these items.
Meanwhile, hoarding is often associated with obsessive compulsive disorder (OCD), anxiety, depression, poor organization skills, and a lower level of functioning. The disorder affects people of all ages, genders, and socio-economic backgrounds. It can often result in unsafe and unsanitary living conditions.
Typically, rodents, insects, or other pests is common in homes where hoarding is present. Extreme hoarding can lead to death by fire, explosion, or other safety hazards. Hoarders often have difficulty navigating through their homes because of of clutter. They often become completely cut off from the rest of the world.
Hoarders can experience significant shame and guilt due to their hoarding disorder, and are often reluctant to seek help. This is because they usually feel embarrassed or feel they do not need help. Hoarders may be extremely reluctant to let others into their homes, even loved ones.
Gathering Essential Supplies
Before you begin to clean a hoarder's home, it is important to gather the right supplies and equipment. A team of two or more people is recommended, as hoarding cleaning can be a very strenuous process.
These are some of the important supplies to have on hand:
Flashlight – A hoarder's home is often very dark, so a flashlight will come in handy when navigating through areas without power.
Work gloves – You will likely come in contact with sharp objects, broken glass, and other hazards during the cleaning process. Protect yourself and your hands with sturdy work gloves.
Protective gear – Be prepared for potential hazards by wearing a dust mask, a face shield, ear protection, and eye protection.
Rubber/plastic boots – Rubber boots will protect your feet from potential hazards, and are recommended when cleaning in wet or muddy areas.
Broom, mop, and cleaning supplies – Having these tools on hand will help make the process easier.
Removal supplies – When removing large items such as furniture and appliances, it is important to have the proper equipment and plan for disposal.
Dump truck or trailer – The large amount of stuff in a hoarder's home often requires multiple trips to the dump. Make sure to have a truck or trailer on hand when removing larger items.
Creating a Clearing Plan
When beginning to clean a hoarder's home, you should begin with a clearing plan. Start by assessing the living conditions and environment of the home. Make note of any hazards and evaluate the amount of cleaning and decluttering required.
You'll also want to make a list of goals and map out the areas of the home. Try to be as inclusive as possible, and make sure to include deadlines and clear communication. Hoarders often feel shame, guilt, and frustration. Be sure to approach the cleaning process with patience and compassion. Choose a time that is convenient for the hoarder, and talk through the cleaning plan with them.
Meanwhile, be sure to make your cleaning plan clear and concise to avoid confusion and misunderstanding. Check back in with the hoarder regularly to ensure their cleaning expectations are being met.
Setting Goals and Realistic Expectations
Communication is key when cleaning a hoarder's home. Make sure everyone on your team is on the same page, and that everyone is aware of their role.
Start by assessing the clean-up goals of the home and making sure everyone understands them.
Next, map out a cleaning plan and assign each person a role in the process.
Make sure to check back in with your team and adjust as needed.
Stay flexible and open to new ideas, and encourage open dialogue and questions.
Keep focused on the cleaning goals and don't get caught up in the mess.
Stay positive and don't be discouraged, even when progress is slow.
Remember that cleaning a hoarder's home is an extremely difficult, tedious process, and you are doing an important service.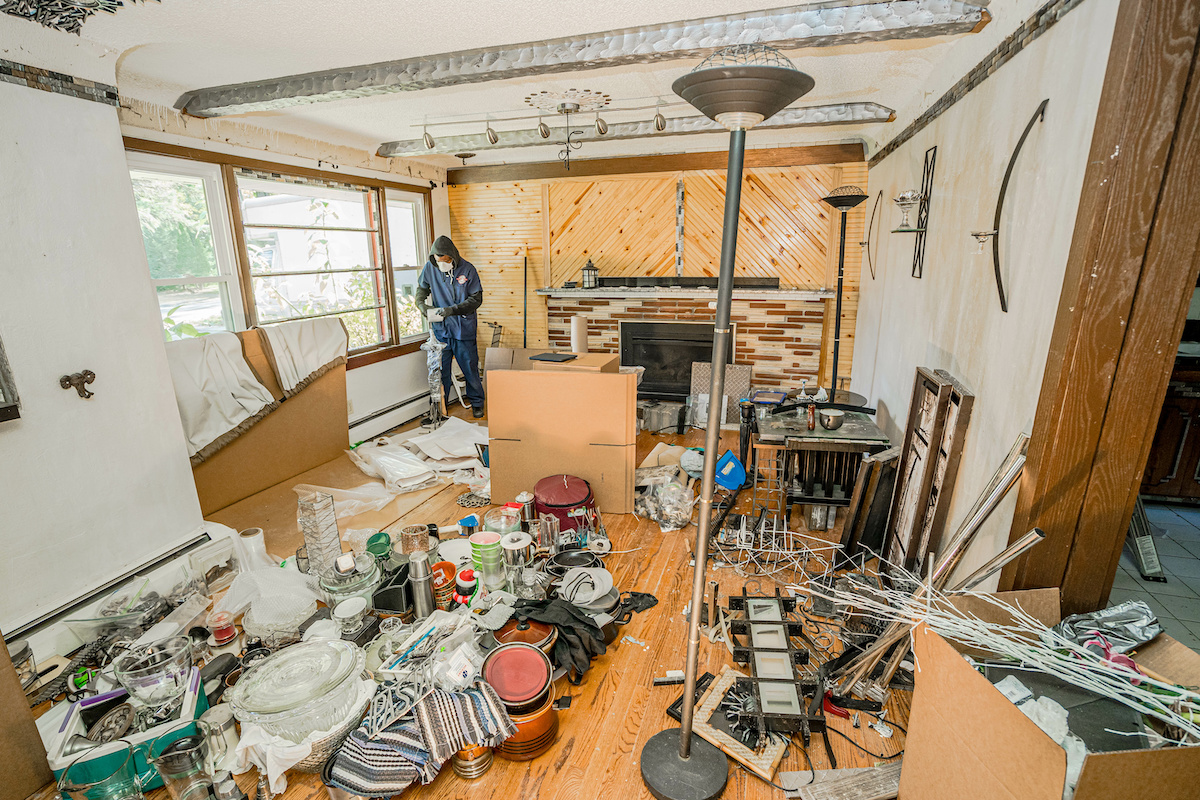 Working Together to Declutter
When clearing out a hoarder's home, it is helpful to begin with the most urgent areas. Many times, the most urgent areas are also the most dangerous. This includes the kitchen, bathroom, and areas with rodent or insect infestations.
If you are cleaning a kitchen or bathroom, make sure to have the proper safety gear on hand. Next, begin with areas that are easy and quick to declutter. Start by sorting items and putting them into piles, such as items to keep, throw away, sell, and donate.
Create multiple sorting areas to avoid confusion. Be sure to include a special area for sentimental items. Try to keep the sentimental area separate from the other piles to avoid confusion.
Make sure to finish one pile before moving on to the next, and focus on one area of the home at a time. Don't try to do everything at once, and don't rush through the process. Allow enough time for each area and do not feel pressured to finish right away.
Maintaining Organization After Decluttering
Once you have finished decluttering, it is important to maintain organization in the home. Try to keep things as organized as possible and put items back in their designated areas. Place smaller items in their proper storage areas and label them using pictures or words to indicate their contents.
Begin to implement organization and filing systems in the home to make it easier to clean and maintain. Consider hiring professional organizers to help with these tasks. If the hoarder in your life is open to it, consider reaching out for professional help.
There are many organizations that specialize in helping people with hoarding disorder, and have the experience and resources to properly clean a hoarder's home.
Dealing with Sentimental Items
Remember to create a special space for sentimental items in your cleaning plan. It is important to take extra care when handling sentimental items, and to try to keep them organized and tidy. It is normal for hoarders to have a large amount of sentimental items. Try to avoid throwing away items without permission, as this can cause feelings of shame and guilt.
Instead, try to find ways to incorporate sentimental items into the home decor, or to repurpose them in other ways. This can help to keep the items out of the way, and out of the hoarder's way.
How to Begin Cleaning a Hoarder's Home: Get Professional Help
If you are unable to clean a hoarder's home, or if you are facing resistance from the hoarder, it is important to consider professional help. Some companies such as World Class Wildlife Removal offer hoarder cleaning. But how do you choose a company for this service?
Make sure to select a trustworthy and reputable company that has experience with cleaning homes with hoarding disorder.
Check that the company has experience working with hoarders, and is able to offer services tailored towards people with mental disorders.
Read online for reviews and experiences with hoarder cleaning.
Some companies offer free consultation services and can help you select the services needed for a particular situation.
Others may have a sliding scale fee or payment options based on a person's income.
When you need assistance with hoarding cleaning, contact us at World Class Wildlife Removal. Our hoarding cleaning services guide you through the entire process. You are not alone! Please contact us now to learn more.